Philippine Airlines (PAL) swung to an operating profit of $298 million in 2022, the first positive operating figure since 2019.
The operating figure marks a sharp improvement from 2021, when the carrier suffered an operating loss of $98.1 million, says PAL. Revenues for 2022 doubled to $2.6 billion year on year.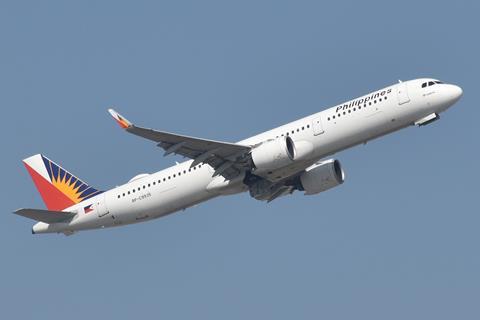 Net profits for 2022 came in at $197 million, down from $1.2 billion in 2021, when the carrier enjoyed a $1.44 billion net gain from its debt restructuring exercise.
The carrier adds that it saw strong and rising demand in all four quarters of 2022, mainly as a result of the elimination of travel restrictions imposed during the Covid-19 pandemic.
"We are very grateful for the support of our customers that has enabled us to achieve this positive result amidst a challenging year," says president and chief operating officer Stanley Ng.
"Philippine Airlines continues to be on a journey of recovery and renewal, and we will make good use of our resources to improve our services for the benefit of our valued customers. We are even more determined to upgrade our fleet, build more connections to key markets and offer improved products and services."
Load factors rose nearly 30 percentage points to 72% in 2022, as the carrier and its low-cost PAL Express unit flew 9.3 million passengers during the year, triple the number flown in 2021.
Operating expenses for 2022 came to $2.27 billion, compared with $1.3 billion in 2021. PAL attributes this to a greater number of flights and higher fuel prices in 2022. Fuel represented the carrier's highest cost item.
PAL adds that continued to restore its international network in 2022, with flights added to Asia, Australian, Middle Eastern, and North American destinations.
As for 2023, the airline has launched a "historic" Manila-Perth service, while restoring routes into China.
Says PAL: "In addition to an extensive domestic network anchored on its gateway hubs in Manila, Cebu and Davao, PAL is the only airline operating nonstop flights linking the Philippines to the U.S. and Canada, along with the largest network of flights from Manila to multiple cities in the Middle East, Japan and Australia."
Cirium fleets data indicates that PAL operates 28 Airbus A320 and A320neo family narrowbodies, as well as nine A330-300s, two A350-900s, and nine 777-300ERs.
It has seven aircraft in storage: three A320 family jets, two A321neos, one A330-300, and one 777-300ER.
It has orders for 13 A321neos.
In mid-March Ng confirmed that the airline plans to "revisit" its orderbook and is looking at more aircraft, specifically the Airbus A350-1000. Before the pandemic PAL operated six A350-900s.