Philippine Airlines (PAL) has reached an agreement with lessors and creditors for over $2 billion in payment reductions, as it files for Chapter 11 bankruptcy in New York.
The agreement covers lenders, lessors, airframers and engine suppliers, as well as its majority shareholder, says the carrier.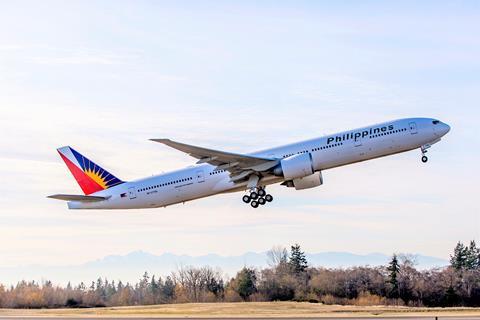 The move will allow for the restructuring of the company and the reorganisation of its finances.
"The restructuring plan, which is subject to court approval, provides over $2.0 billion in permanent balance sheet reductions from existing creditors and allows the airline to consensually contract fleet capacity by 25% and includes $505 million in long-term equity and debt financing from PAL's majority shareholder and $150 million of additional debt financing from new investors," says PAL.
The restructuring only covers Philippine Airlines, not parent PAL Holdings or PAL Express. In addition to filing for Chapter 11 bankruptcy in New York, the airline is also filing for recognition under the auspices of the Philippines' Financial Insolvency and Rehabilitation Act.
The airline adds that it will continue operate flights as normal.
"We welcome this major breakthrough, an overall agreement that enables PAL to remain the flag carrier of the Philippines and the premier global airline of the country, one that is better equipped to execute strategic initiatives and sustain the Philippines' vital global air links to the world," says Dr. Lucio C Tan, PAL Chairman and chief executive.
"We are grateful to our lenders, aviation partners and other creditors for supporting the plan, which empowers PAL to overcome the unprecedented impact of the global pandemic that has significantly disrupted businesses in all sectors, especially aviation, and emerge stronger for the long-term."
From PAL's restructuring statement

PAL continues to gradually increase domestic and international flights in line with market recovery. In coming weeks, PAL will build up flight frequencies on key regional and long-haul routes while expanding domestic networks from its hubs in Manila and Cebu.
All passenger and cargo flights will continue to operate, subject to demand and travel restrictions.
All valid tickets and travel vouchers will be honored.
PAL reaffirms its commitment to fulfill all refund obligations.
Mabuhay Miles and benefits will be honored.
Valid travel benefits for retired employees will be honored.
Ongoing suppliers and trade creditors will be paid in the ordinary course for goods and services delivered throughout this process.
Travel agencies and other commercial partners will experience no disruption in their interactions with PAL.
PAL continues to operate special all-cargo flights to transport vaccines, medical supplies and sustain critical supply chains.
PAL continues to work with the Philippine government to mount flights to bring Overseas Filipino Workers (OFWs) home after having repatriated the majority of displaced Filipinos during the course of the global pandemic.
PAL continues to innovate and enhance customer experience by working with the government and IATA on streamlined rules for travel, including travel passes and vaccine "passports" while maintaining the highest standards of passenger safety through this pandemic.