PAL Holdings narrowed its pre-tax losses in the third quarter to Ps5 billion ($100 million) from Ps7.8 billion, as it reported stronger revenue.
Revenue grew 64.7% to Ps14 billion in the quarter to 30 September, with both passenger and cargo showing a strong year on year performance, says the parent of Philippine Airlines.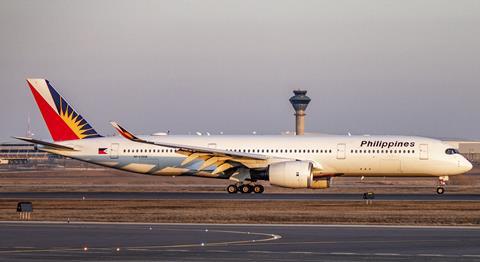 Expenses rose 3.2% year on year to Ps15.9 billion, while net losses narrowed to Ps5 billion from Ps7.9 billion.
Cash burn from operations remained high, with a quarterly net cash outflow of Ps7.5 billion, up from Ps1.7 billion in the third quarter of 2020.
As of 30 September, cash and cash equivalents stood at Ps4.4 billion, compared with Ps1.8 billion a year earlier.
As of 30 September, the PAL fleet stood at 89 aircraft, down from 97 at the end of 2020.
So far this year, a single owned De Havilland Canada Dash-8 Q400 has left the fleet.
Seven leased aircraft have exited the fleet as well: two Airbus A350-900s, three A330-300s, and A321s.
In September, Reuters cited a company official as saying that the airline's objective was to reduce its fleet to 70 aircraft.
PAL is undergoing a Chapter 11 restructuring process following massive losses caused by the coronavirus pandemic.