Malaysia Airlines will embark on an "urgent restructuring exercise", which includes a "drastic" relook at its network and fleet plans, as the coronavirus outbreak upended its business recovery momentum.
The process, which will involve revising its long-term business plan rolled out in 2019, will span the next few months, the carrier adds.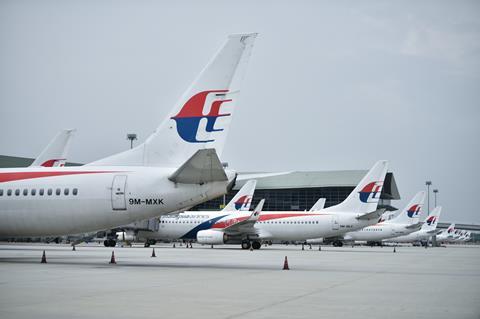 The "drastic steps" will "ensure the [Malaysia Airlines Group's] relevance and survival" amid the "deep impact of the prolonged Covid-19 crisis", says Malaysia Airlines.
"This [revised] plan, which requires a comprehensive restructuring of the MAG business and capital structure, is highly dependent on the individual contributions of all relevant stakeholders in supporting the group to emerge out of this crisis as a well-capitalised and financially healthy airline group," says the Oneworld carrier.
However, it warned that further measures could be taken, should the current restructuring exercise not work out.
It stresses that it is "committed to ensure that its restructuring exercise is duly implemented in a fair manner through any form of mechanism that is appropriate".
Since the onset of the coronavirus outbreak in March, Malaysia Airlines has taken several measures to conserve cash and save jobs, including pay cuts for its management team and pilots, renegotiating contracts and implementing no-pay leave.
The carrier saw a significant proportion of flights grounded for most of the first half of the year, as Malaysia imposed lockdown measures and travel restrictions that crimped both domestic and international travel demand.
Since then, Malaysia has reallowed domestic, inter-state travel to resume, providing some relief for its carriers.
MAG rolled out its long-term business plan in early 2019, aimed at improving its carriers' finances. Since then, it notes that group net income after tax for 2019 also improved compared to 2018, despite higher prices and accounting changes.
Revenue for 2019 grew 7% year on year, while Malaysia Airlines's revenue per available seat-kilometre (RASK) for the year grew 3%. Malaysia Airlines' RASK for the second half of last year was the highest RASK recorded in three years, the carrier notes.
Cirium fleets data indicates Malaysia Airlines has a fleet of 88 aircraft, of which 27 are in storage.