Vietnam Airlines saw significant losses during the first quarter of 2021 owing to Covid-19.
The SkyTeam carrier's after-tax loss ballooned to D4.6 trillion ($198 million) for the three months ended 31 March, compared with a D1.8 trillion after-tax loss a year earlier, says the airline.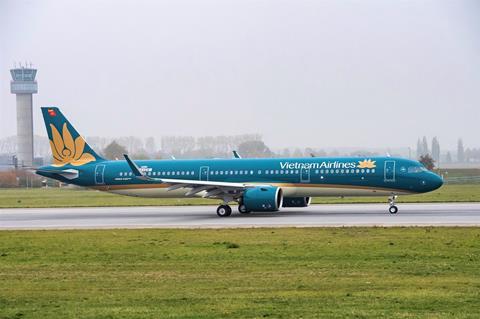 On a consolidated basis, after-tax losses were D4.96 trillion, while total revenues fall 64% to D8.5 trillion. Consolidated figures include the main airline, Cambodia Angkor Air, Pacific Airlines (formerly Jetstar Pacific), and VASCO.
With Vietnam all but entirely cut off from the world amid the coronavirus pandemic, international revenues were down 97% year on year. The carrier was able to reduce expenses by 41% year on year.
Cirium fleets data indicates that Vietnam Airlines has 95 aircraft in service with 12 in storage.