PAL Holdings swung back to profitability – helped by a reduction in costs – as the group eyes growth and recovery this year.
For the year to 31 December 2021, the parent company of flag carrier Philippine Airlines posted a net profit of Ps60.6 billion ($1.2 billion), compared to 2020's Ps73 billion net loss.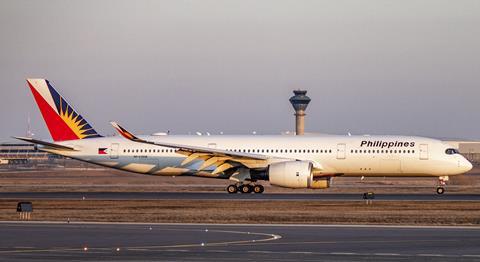 The group saw a 6% year-on-year increase in revenues to Ps58.7 billion, led mainly by an uptick in cargo revenue.
Full-year expenses fell 23% to nearly Ps63 billion, as the group saw costs trimmed in various areas, including flying-related and maintenance costs.
Against pre-pandemic 2019, however, PAL Holdings' full-year revenue and expenses fell sharply, at 62% and 59%, respectively.
The group credits the better financial performance to key unit PAL's successful emergence from Chapter 11 restructuring.
In September 2021, the carrier filed for voluntary Chapter 11 bankruptcy, having been heavily impacted by the coronavirus pandemic, which had shut down travel demand in the region.
It exited Chapter 11 on 31 December 2021, armed with a court-approved recovery plan that will allow it to shave of over $2 billion in debt and gain access to $505 million in equity and debt financing from its major shareholder.
As part of the plan, the group will trim its fleet to about 70 aircraft. It already returned 10 aircraft in 2021 and will return an additional nine jets this year.
PAL also disclosed deferrals for an order of 13 Airbus A321neo aircraft by five years, from 2021-2025, to 2026-2029.
The airline expects border reopening in 2022 to provide an uplift to its passenger revenues, and will "build a robust strategy" to tap into cargo opportunities.
It has also previously stated plans to growing its digital initiatives, as well as expand codeshare and interlining partnerships to improve connectivity.
"The PAL Group enters 2022 with cautious optimism for a stronger recovery that will enable the restoration of more flights and boost its economic performance overall," the airline states in a presentation accompanying its full-year results.
"The PAL Group will rally towards recovery, growth and ultimate success as the global situation improves for the airline and travel industry. PAL will remain a full-service network airline with a global reach," it adds.