PAL Holdings, the parent of Philippine Airlines, reported a marked improvement in its first-quarter profit, as air travel demand continued to recover.
For the three months to 31 March, the company disclosed an operating profit of around Ps7.4 billion ($135 million), a three-fold jump year on year.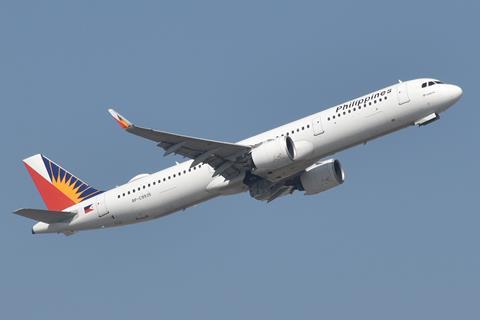 The company saw a 66% improvement in quarterly revenue, to around Ps43 billion, as passenger numbers more than doubled with the reopening of borders and easing of pandemic curbs.
PAL Holdings saw its expenses increase 48% to Ps35 billion, led by a rise in fuel costs with more flights being operated.
"The positive financial performance reflects the continuing strength of the recovery of air travel. During [the first quarter], PAL re-introduced routes to several cities in mainland China and launched nonstop flights to Perth, while maintaining regular services to North America, the Middle East, Australia and various destinations around Asia and the Philippines," the company states.
PAL Holdings posted a net profit of Ps4.7 billion, a significant improvement against the Ps1 billion profit in the year-ago period.
Airline chief Stanley Ng adds: "The stronger recovery brings transition challenges that impact our operations, and we commit to make productive use of our improving revenues to invest in fleet upgrades, product improvements, operational support and above all safety."