As part of its restructuring, Philippine Airlines (PAL) aims to reduce its fleet by 22 aircraft, mainly by returning aircraft to lessors.
According to a report by Reuters, citing company officials during a media briefing, the airline is aiming for a fleet size of 70 aircraft, down from 92 now, with both widebodies and narrowbodies to be cut.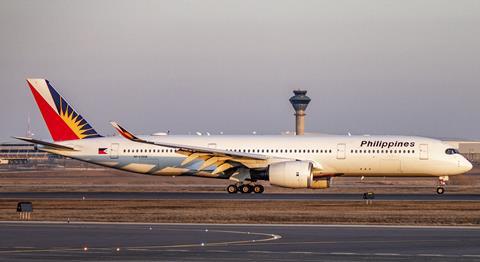 In addition, the airline has postponed the delivery of 13 Airbus A320neo family jets. Company executives do not expect traffic to return to pre-pandemic levels until 2023-24.
The news came days after the company filed for Chapter 11 bankruptcy in New York, a move that had been long anticipated. Lenders and creditors have agreed to over $2 billion in payment reductions and other changes from the restructuring of PAL's balance sheet.
In a corporate video about the restructuring, PAL president and chief operating officer Gilbert Santa Maria, said the coronavirus pandemic has "devastated" the airline sector, and cut $2 billion from the airline's revenues.
"We survived the last eleven months by stretching our liquidity through extraordinary cost control efforts, and deferral of capital expenditures," he says.
He adds that lessors and lenders deferred over $360 million in lease and loan payments, and suppliers extended payment terms. The airline is operating just 21% of its pre-pandemic capacity, serving 70% of its previous destinations.
In addition, the carrier will reduce lease payments, and ensure that it is under no minimum power-by-the-hour arrangements.
The airline's Chapter 11 filing in the Southern District of New York offers some details about PAL's creditors. The biggest secured creditor is PK Airfinance, with a $334 million claim secured by aircraft and spare engines. Several banks also have secured claims.
PAL's biggest unsecured creditor is shareholder Buona Sorte Holdings (BSHI), which is owed $358 million. BSHI is part of the Lucio Tan Group of Companies, which controls PAL.
Other notable creditors are Air Philippines, known as PAL Express, which is owed $171 million in codeshare payments, and the Philippine National Bank, owed $116 million.
Aerospace players and lessors also figure prominently among 40 unsecured creditors, with Rolls-Royce owed $89 million, and Lufthansa Technic Philippines $80.8 million.