Philippine Airlines (PAL) is working towards "a comprehensive restructuring plan", as the embattled carrier widened its full-year losses on what it called the "extraordinary impact" of the coronavirus pandemic.
PAL Holdings, the carrier's parent company, states that the restructuring will "enable the airline to emerge financially stronger from the current global crisis".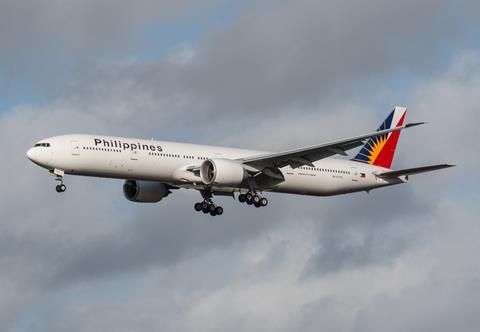 "We are confident that the restructuring will enable PAL to strengthen its capital structure, meet stakeholder obligations and position the company for long-term success," the company adds.
No further details were disclosed in the 17 June filing, though PAL Holdings says that PAL's management are finalising details of the restructuring and will announce them "at the proper time".
A presentation accompanying the group's full-year results, released on the same day, suggests sweeping changes: " [It is an] opportunity to revisit our business model, develop a new plan, rationalise our fleet, create a lean organisational structure, simplify processes and maximise use of digitalisation.
Last November, PAL Holdings dismissed a Nikkei Asia report claiming that it was seeking court protection from creditors and looking to raise funds. At the time, it said it was still "studying the best options" for the carrier.
Other subsequent media reports indicated that the carrier was in talks with its lessors about restructuring, which could include reducing its leased fleet and seeking more favourable lease terms.
The latest development comes as PAL Holdings reported a net loss of Ps73 billion ($1.5 billion) for the year ended 31 December. This compares to the Ps9.7 billion net loss it reported the previous year.
Revenue took a hit from the coronavirus pandemic, as passenger travel demand collapsed. The Philippine government also halted commercial flights during most of March, April and May last year, impacting the carrier's domestic passenger traffic revenue.
For the year, revenue tumbled 64% to Ps55 billion, outpacing a 46% reduction in costs, which came in at Ps81.8 billion.
The company burnt cash through the year, ending 2020 with cash and cash equivalents of Ps2.4 billion. This compares with the Ps15.1 billion it had at the start of the year.
Says PAL Holdings: "The reduced operations affected liquidity as little cash were being generated, payables were falling due, ticket refunds were an all time high due to numerous cancellations brought about by travel restrictions."
Measures the group has taken to see itself through the crisis include: drawing on bridge funding and support from its majority shareholder, deferring payments, carrying out a retrenchment program, as well as implementing other cost-cutting measures.