Pakistan International Airlines (PIA) has confirmed that a restructuring plan is in place to return the airline back to profitability, though the coronavirus pandemic has delayed some of these plans.
The airline was responding to media reports earlier in the week, where Ishrat Hussain, an adviser to Pakistani prime minister Imran Khan, disclosed more details of the plan.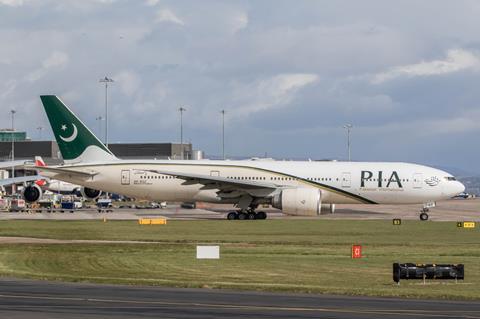 The plan includes halving the airline's 15,000-strong workforce, as well as reducing its fleet to under 30 jets, while introducing newer, more fuel-efficient jets.
In a statement to FlightGlobal, PIA confirms that the plan has been approved by the Pakistani government but adds that "there is more to the programme, and it will not be a straight-line reduction in workforce and fleet".
It states that the Pakistani government has proposed that "certain concrete steps" be taken to turn its dire finances around, "including, but not limited to" cutting its workforce.
PIA states that its current employee numbers stand at around 11,300 now — already down from the 15,000 at end-2018. This was due to regular attrition — which sees about 600-700 staff leave annually — as well as the axing of about 900 staff for disciplinary issues. A further 1,900 staff also opted for a voluntary separation scheme which the airline introduced in December 2020.
"With the next stage of restructuring, certain non-core functions such as inflight catering, ground services and MRO are being made outsourced or made [strategic business units] which will not only allow PIA to focus more on the core functions, but will also reduce the work force by another 4,000 or so," the airline discloses.
PIA adds that fleet enhancement plans were in the pipeline, but that the coronavirus pandemic had shifted the timeline to the right.
The carrier did not comment on Hussain's comments on a network rejig.
"The time line to execute all these and other administrative reforms and restructuring steps is by 2023," the carrier, which has been loss-making for the past two decades, adds.
The carrier reported a pre-tax loss of Rs35.5 billion ($224.6 million) for the year ended 31 December, as revenue declined 35% to just under Rs95 billion. It disclosed in its full-year results that the operating environment remained "very challenging" for "multiple reasons", including the onset of the coronavirus pandemic.