Pakistan International Airlines (PIA) has reportedly gotten the green light to halve its workforce of 14,000 and cut its fleet to no more than 30 aircraft, amid continued full-year losses.
Ishrat Hussain, an adviser to Pakistani prime minister Imran Khan, was cited in news reports as saying that the hope is for PIA to return to profitability by 2023.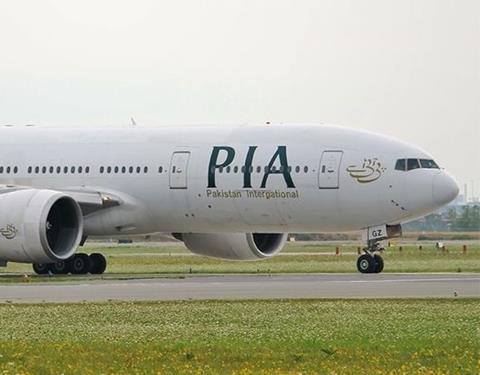 Hussain adds that Pakistan's cabinet approved the latest restructuring measures, which will also see the government explore selling its 26% stake after improving the carrier's balance sheet.
Previous attempts to turn PIA's dire finances around met with objections from airline employees and politicians.
The latest measures will also reportedly see less efficient aircraft replaced with more fuel-efficient jets, as well as a network rejig where non-profitable routes will be axed permanently.
In the media reports, Hussain cited Tokyo and Manila as two unprofitable routes that would likely get the chop.
FlightGlobal has written in to PIA to seek comment.
Cirium fleets data indicates that PIA has an in-service fleet of 20 aircraft, including eight Airbus A320s and eight Boeing 777s. It has another 10 jets in storage, with five more 777-300ERs on order.
The carrier reported a pre-tax loss of Rs35.5 billion ($224.6 million) for the year ended 31 December, as revenue declined 35% to just under Rs95 billion. It disclosed in its full-year results that the operating environment remained "very challenging" for "multiple reasons", including the onset of the coronavirus pandemic.
PIA was banned from operating to Europe in mid-2020, and has not had its third-country authorisation restored by the European Union Safety Agency.