The coronavirus pandemic is expected to cost the Qantas Group A$16 billion ($12.4 billion) in lost revenue, though airline chief Alan Joyce believes it is "slowly starting to turn the corner".
In a 20 May business update, Qantas forecast a A$2 billion pre-tax statutory loss for the year ending 30 June, despite a strong surge in domestic travel demand the country's borders remain closed.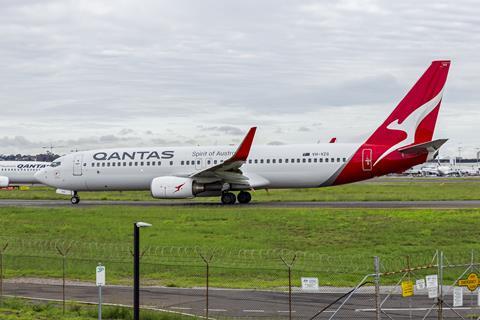 To this end, it will impose a two-year freeze on wage increments across the group, and will put a number of its cabin crew operating international flights on voluntary redundancy.
The redundancy is expected to garner "several hundred applications, with the total number accepted to be balanced against retaining key capability for the longer term".
Cost-saving measures aimed at helping the group get back to the black "is well on track", with A$600 million in cost reductions to be delivered by the current financial year, which ends on 30 June.
On the domestic front, Qantas notes that demand has proven to be "more resilient" compared to the onset of the pandemic.
For the April-June period this year, the group — comprising mainline carrier Qantas and low-cost unit Jetstar — "is on track" to hit 95% pre-pandemic domestic capacity. By July, the two carriers are expected to operate more capacity compared to pre-pandemic levels, with Qantas at 7% more and Jetstar at 20% higher.
The group also flagged the financial impact of interstate travel restrictions earlier this year. For instance, a three-day lockdown in Perth in April cost the group A$15 million, while a March lockdown in Brisbane blew out A$29 million.
The group notes that while international passenger travel remains in the doldrums, its freight arm, Qantas Freight, "continues to serve as a natural hedge for the downturn in international passenger travel and the cargo capacity that it normally brings". Qantas expects cargo revenue in the second half of the current financial year to exceed that of the first half.
As international travel remains unlikely — at least until 2022, per government estimates — Joyce has doubled down on calls to reopen borders by the end of the year, and for a boost in vaccination efforts.
He adds: "We've adjusted our expectations for when international borders will start opening based on the government's new timeline, but our fundamental assumption remains the same – that once the national vaccine rollout is effectively complete, Australia can and should open up."
"No one wants to lose the tremendous success we've had at managing Covid-19 but rolling out the vaccine totally changes the equation. The risk then flips to Australia being left behind when countries like the US and UK are getting back to normal," says Joyce.
In its interim results for the 2021 financial year, Qantas swung to a massive underlying loss before tax of A$1.03 billion.