Qantas Group expects a major swing to profitability in the first half of its 2023 financial year, as it rides a strong domestic and international traffic recovery.
Underlying profit is expected to be in the range A$1.2-1.3 billion ($750-820 million) for the six months to 31 December, says Qantas.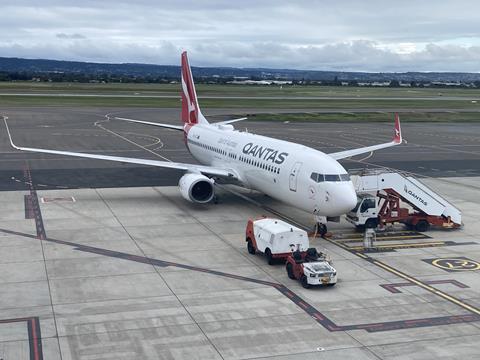 The rosy outlook is based on strong travel demand and forward bookings.
Should Qantas's forecast prove accurate, it would mark a big swing from a loss of A$1 billion in the first six months of 2022 financial year, when the air travel sector was still grappling with the coronavirus pandemic.
"It's been a really challenging time for the national carrier but today's announcement shows how far we've come," says chief executive Alan Joyce.
"Since August, we've seen a big improvement in our operational performance and an acceleration in our financial performance."
Qantas adds that both leisure and business revenues in the domestic market have surpassed pre-pandemic levels.
International yields are also strong, but Qantas expects this to moderate as capacity from Qantas and other airlines grows.
It also warns of a "complex" environment marked by high fuel prices, inflation, and higher interest rates – all of which hurt consumer confidence. Still, it sees signs that consumers are prioritizing travel over other expenditure.
On the capacity front, the Qantas Group will operate 94% of pre-pandemic capacity for the first half, which will rise to 100% in the second half.
In regard to international capacity, Qantas Group will operate 61% of pre-pandemic capacity in the first half, which will grow to 77% in the second half.
QANTAS GROUP CAPACITY
1Q23
2Q23
1H23
3Q23
4Q23
2H23
FY23
ASKs vs FY19
Group Domestic
93%
95%
94%
98%
102%
100%
97%
Group International
56%
66%
61%
72%
82%
77%
69%
Total Group
69%
76%
73%
81%
89%
85%
79%
Source: Qantas Group
International capacity growth, however, is contingent on the return of additional Airbus A380s from storage, the delivery of three new Boeing 787-9s, and the arrival of more A321LRs for low-cost unit Jetstar.
Acknowledging the delays and cancellations Qantas faced as it has emerged from the pandemic, the group will keep 20% of flying capacity in reserve. This involves having 10 narrowbody, six widebody, and four regional jets on standby across Qantas and Jetstar.