Qantas Group is the latest carrier to make it mandatory for all employees to be vaccinated against the coronavirus.
The airline group states that all frontline employees — including cabin crew and pilots — will have to be inoculated by 15 November, with the rest of staff to do so by 31 March 2022.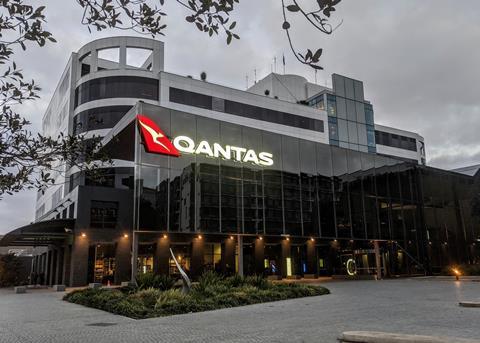 Exemptions will be made for those with medical reasons that do not allow them to be vaccinated, which Qantas says "is expected to be very rare".
The announcement follows employee consultation and a survey sent to 22,000 staff from mainline Qantas and low-cost unit Jetstar, which indicated strong support for a company-wide vaccination mandate.
Already 89% of Qantas staff have been vaccinated, or are planning to do so, with a small number — at 4% — unwilling or unable to get a jab.
The employee survey also found that three-quarters of staff "think it should be a requirement for all employees to be vaccinated and would be concerned if other employees in the workplace were not vaccinated".
The move comes as Australia battles one of its worst infection waves, which has left Sydney — and the state of New South Wales — under strict lockdown. Several other states have also shut domestic borders to keep the virus out.
Qantas chief Alan Joyce says vaccinations "are the only way to end the cycle of lockdowns and border closures", which will allow more staff to return to work. Qantas in early August announced that it was putting 2,500 staff on furlough, amid a "significant drop in flying" caused by the latest wave.
Says Joyce: "Having a fully vaccinated workforce will safeguard our people against the virus but also protect our customers and the communities we fly to. One crew member can fly into multiple cities and come into contact with thousands of people in a single day. Making sure they are vaccinated given the potential of this virus to spread is so important and I think it's the kind of safety leadership people would expect from us.
"We provide an essential service, so this will help guard against the disruptions that can be caused by just one positive Covid-19 case shutting down a freight facility or airport terminal," he adds.
As vaccinations roll out across the world, several major airline groups have mandated inoculations for their staff, especially those in frontline roles.
Malaysia Airlines Group on 16 August disclosed that all its active cabin crew and pilots have been fully-vaccinated, and that 95% of all Malaysia-based employees have already received their coronavirus jabs.
The Kuala Lumpur-based airline group in July made it compulsory for all employees to be inoculated.
In Hong Kong, Cathay Pacific reports that 88% of its Hong Kong-based employees — including nearly all its pilots and 91% of cabin crew — have already booked or received their vaccinations.
Singapore Airlines Group in February began operating flights with a full set of vaccinated crew members. It said then that more than 90% of frontline staff have already signed up to be vaccinated.
In the US, United Airlines and Frontier Airlines have both mandated all employees to be vaccinated against the coronavirus.