Qantas will bring forward the launch of international flights to 1 November, following a move by New South Wales (NSW) to open its borders on that date.
Qantas had planned to relaunch international services in the middle of November, but NSW premiere Dominic Perrottet announced that the state will open earlier owing to high vaccination rates.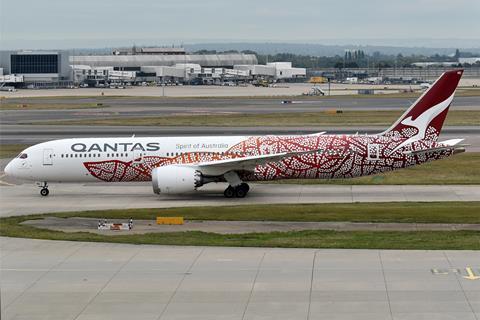 Australian prime minister Scott Morrison subsequently confirmed that NSW will open, but that arrival caps in other Australian states will remain in place pending progress with vaccinations.
Initially, the flights will be limited to Australian citizens, permanent residents, and their immediate family members. Travellers over the age of 12 must be fully vaccinated, and all passengers must test negative for Covid-19 with a polymerase chain reaction test 72h before departure.
From 1 November, Qantas will operate five return flights weekly on the Sydney-London route, and four flights weekly on the Sydney-Los Angeles route, operating with Boeing 787-9s. They Sydney-London route will be operated via Darwin until at least April 2022.
Flights to Singapore, Fiji, and Vancouver are still scheduled to operate from 18 December 2021.
"Bringing forward the reopening of Australia to the world and removing quarantine requirements for fully vaccinated travellers entering New South Wales is a massive step towards life as we knew it," says Qantas Group chief executive Alan Joyce.
"In just a little over two weeks, Australians around the world can fly into Sydney and people from around Australia can leave on trips they've been waiting almost two years to take. We hope other states will do the same once they reach the 80 per cent target."
He adds that removing quarantine for NSW is "sensible" and aligns the state with major cities in the world. Australia has been all but entirely cut off from the world since the coronavirus pandemic spread from Wuhan, China in early 2020.