Qantas will deploy its Boeing 787-9s on domestic flights for the first time since the type entered its fleet, as part of a capacity expansion that will also see seven new domestic routes launched.
The 787 — a long-haul mainstay that has been largely grounded since international borders were shuttered — will operate Sydney-Perth flights, up to nine times a week.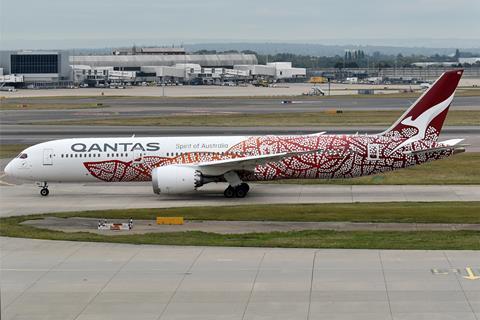 On the same route, Qantas will add Airbus A330-200s, which are usually used on flights to Asia, up to 4 times a week. The Oneworld carrier has 34 weekly flights between Sydney and Perth.
The A330s will also be deployed on selected flights on three city pairs: Melbourne-Perth, Sydney-Darwin, as well as Brisbane-Darwin.
The additional widebody capacity is on top of existing A330 domestic operations, the carrier states.
Cirium fleets data shows Qantas to have an in-service fleet of 11 787s, along with nine A330-200s and another nine A330-300s.
Qantas domestic and international chief executive Andrew David says: "Our strategy of adding new domestic routes is generating revenue from our aircraft rather than leaving them on the ground. It means more work for our people and even more low fares for our customers."
Qantas' reallocation of more widebody aircraft to domestic operations comes as the carrier postponed a planned international restart to the end of the year.
The Australian government has hinted that international borders will remain closed for most of the year as an inoculation drive gets underway, with international travel likely to "remain low" through mid-2022.
Adds David: "As most international travel remains off limits for now, Australians are taking more regular holidays within the country and we expect these new direct flights to key tourism destinations will be popular with travellers."
As part of its domestic capacity ramp-up, Qantas also rolled out seven new city pairs, including a series of flights from Adelaide that will be operated with regional partner Alliance Airlines' Embraer E190s.
Three cities — Townsville, Cairns and Hobart — will get E190 service from Adelaide from August and September. Townsville will also see two new flights in September to Sydney and Melbourne, also operated by Alliance's E190s.
Qantas' route expansion — which will see domestic capacity exceed pre-pandemic levels — comes hot on the heels of rival Virgin Australia's launch of five new domestic routes — including from Townsville to Sydney and Melbourne.
Virgin Australia will also boost capacity on a several domestic routes, such as Brisbane-Perth, Sydney-Gold Coast, as well as Melbourne-Cairns. In all, the carrier will add more than 700 extra weekly flights by October.