Qantas has increased the number of Embraer E190s options under a wet lease agreement with regional operator Alliance Aviation, as it further boosts domestic capacity.
The capacity ramp-up — on the back of surging domestic travel demand — will also see low-cost Jetstar re-deploy a number of Singapore-based Airbus A320s for Australian domestic operations.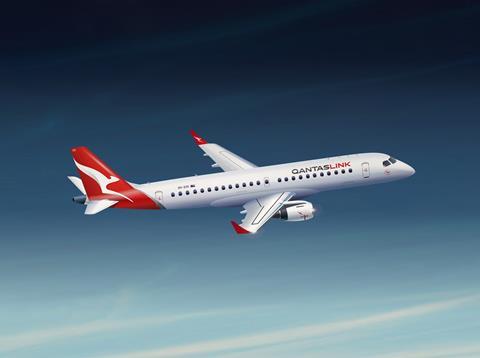 Announcing the move on 17 June, Qantas states that it will increase its options with Alliance from 14 E190s to 18 jets. Of these, three are already operating with regional unit QantasLink, with a further five more Adelaide-based jets to enter service by October. Qantas also disclosed that the leased E190s will be painted in QantasLink colours.
The E190 wet lease agreement was first announced in February, amid expectations of a domestic travel boom in the absence of international travel. Australia's borders are closed — and will remain so for most of this year — to curb the coronavirus spread.
Qantas says the E190 deployment "frees up" its mainline Boeing 737 fleet "to be redeployed across the domestic network".
The Oneworld carrier has added capacity in recent months, tapping pent-up travel demand.
In May, it announced that it was moving its international Boeing 787-9s to domestic, trans-continental operations. The airline expects domestic capacity for the year ended 30 June 2022 to be 7% higher than pre-pandemic levels.
Qantas' low-cost unit Jetstar, meanwhile, will see its domestic capacity surpass pre-pandemic levels by 20% during the same period.
Jetstar will move three A320s from its Singapore-based affiliate Jetstar Asia to cope with rising travel demand. The three jets join another six A320s redeployed from Japanese unit Jetstar Japan.
The airline has also shifted five 787-8s — traditionally operating longer-haul international routes — to domestic operations.