The market for business air travel has "changed for good" as a result of the pandemic, believes Loganair chief executive Jonathan Hinkles, and the shift should "serve as a warning" to rivals considering adding capacity as Covid-19 restrictions ease.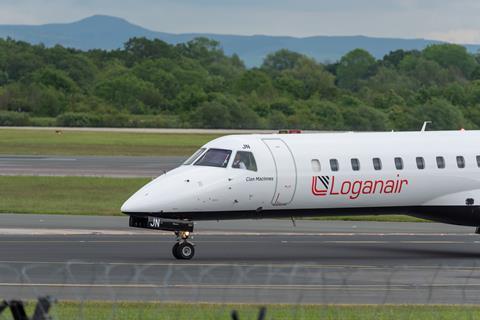 Speaking at an Aviation Club webinar today, Hinkles said business travel – crucial for regional airlines – "isn't going back the way it was" because many companies in sectors including financial services, consultancy, and retail would continue with virtual meetings once the crisis passes.
"While construction, manufacturing and primary health care will still be drivers of demand, many other sectors will largely switch to online permanently, and this should serve as a warning for anyone thinking about piling capacity into the UK domestic market," he says.
"Gone are the days when people would spend all week travelling and staying in hotels. Work life balance has changed," he adds. "Business travel will not return to 2019 levels ever, or at least within any airline planning period."
Hinkles also strikes a cautious note about prospects for a bounce in leisure travel, stating that "we are not seeing much sign right now of pent-up demand for domestic tourism", and that "some of my competitors might be believing their own press releases", a reference to upbeat predictions from airlines such as Ryanair.
He says: "I have no doubt things will start to recover, but it is too early to tell if we will have a good summer or not."
The Scottish carrier, which marks its 60th anniversary next year, became the UK's largest regional operator after taking over routes from the failed Flybe and BMI Regional in the past 24 months. It has a fleet of 42 aircraft.
The airline has been through substantial changes in the past five years, ending its long-time franchise agreement with Flybe in 2016, and relaunching services in the mainland UK under its own brand.
In 2019 it picked up five services from its then-sister airline BMI Regional, including to Bristol, Brussels and Oslo, and followed that with agreements to take over 16 former Flybe city pairs after that carrier's collapse just before the Covid crisis. Last year it began its first flights into London Heathrow.
In addition, the airline has diversified into freight and medevac charter services, which "are standing us in good stead", says Hinkles.
He admits the changes, on top of the impact of the pandemic, have been significant for an airline that made its name serving remote communities in the Highlands and Islands, largely under public service contracts.
"If you'd said to me this time last year that we'd be flying out of London Heathrow to Gdansk and Riga, and have two Saab 340 air ambulances, I'd have laughed. But today, these are some of the things that we are doing," he notes.
Hinkles says Loganair's strategy will "remain based on aircraft up to 72 seats". Together with a fleet of Britten Norman Islanders and Viking Twin Otters, the airline operates Embraer regional jets and in 2019 began replacing ageing Saab 340 aircraft with new ATR 42s and 72s.
Most UK domestic routes will "not sustain bigger jets", he says.
Hinkles also says that, as the effects of the pandemic recede, the environment will "rapidly become the industry's biggest issue".
Loganair is the airline representative in a consortium led by the UK's Jet Zero Council designed to trial hydrogen- or electric hybrid-powered aircraft on short-range routes.
As part of a four-year contract, from 1 April, the operator will begin flying two modified Islanders from its Kirkwall base on its inter-Orkney islands services.