Garuda Indonesia hopes to have over 100 aircraft back in service by the end of 2022, and plans to focus primarily on Indonesia's domestic market.
In an interview with Bloomberg Television on 28 June, Indonesia's deputy minister for state-owned enterprises Kartika Wirjoatmodjo outlined Jakarta's ambitious plans to reboot the carrier, which recently obtained creditor and court approval for an INR114 trillion ($9.6 billion) restructuring plan.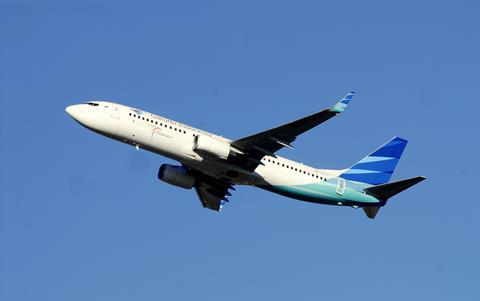 He says that whereas Garuda had 200 aircraft flying before the pandemic, this will fall to around 120.
"We will refocus our business mostly to the domestic market with very few international routes," says Wirjoatmodjo.
"We will have 70-80 narrowbodies and the rest widebodies. With this route optimisation, we believe that Garuda can have a positive operating profit."
Cirium fleets data indicates that Garuda has 45 aircraft in service and 74 in storage. Some proceeds from a planned INR7.5 trillion rights issue will go toward reactivating stored aircraft.
The mainstay of the carrier's in-service fleet are 25 Boeing 737-800s and 10 Airbus A330s.
A key element of the carrier's restructuring was reducing lease rates. Wirjoatmodjo estimates that lessors took an 81% haircut in the process. Following negotiations with lessors, he says lease rates for narrowbodies have been reduced by 30-40%, and lease rates for widebodies by 50-70%.
He adds that the new lease rates will come into effect in 2023, which will help the carrier generate an operating profit.
In regard to whether Garuda will contemplate new orders, Wirjoatmodjo says that this is only a "long-term prospect," with the carrier focused on current liabilities and using the aircraft under revised lease rates.
Also, through rights offerings the government aims to reduce its 60.5% stake in Garuda to 51% - the other major shareholders are PT Trans Airways with a 28.3% stake, while smaller shareholders own the balance.
Wirjoatmodjo adds that Garuda is in talks with international investors about Garuda ownership. While he declined to offer names, he says discussions are underway with "some of the large hub carriers", as well as with private equity firms.
"With the reduction in lease rates, and with the additional business from cargo, we believe that we can provide a good return for investors coming in," he says.
Garuda is also in discussions with authorities about having its shares resume trading, possibly in early 2023.