Embattled Hong Kong Airlines (HKA) has hinted at restructuring into a "leaner and more efficient" carrier, as the coronavirus pandemic worsens its shaky financial situation.
The carrier, however, did not comment on reports of job cuts and a shift towards being a cargo-only carrier to survive the pandemic.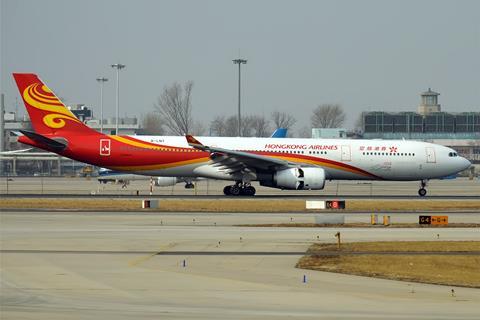 A South China Morning Post report on 7 June cites company sources as saying that HKA will slash "hundreds of more jobs" in the coming months. The report adds that the carrier will ground its entire fleet of Airbus A320s and only fly its A330s to carry cargo.
Cirium fleets data shows HKA to have an in-service fleet of just seven jets, comprising one A320 and six A330-300s. 10 A320s and 11 A330s remain in storage, as are the carrier's fleet of six A350-900s, which it previously used on long-haul routes. Subsidiary Hong Kong Air Cargo has five A330 freighters in operation.
Responding to FlightGlobal's request for confirmation, HKA would only say: "To ensure that Hong Kong Airlines is in a better position to operate in the challenging years ahead, an internal restructure is deemed necessary to help the company achieve a leaner and more efficient organisation."
The carrier, owned partially by now-bankrupt HNA Group of China, adds that it will "communicate details to our employees in the coming days".
The recent development is the latest in a string of crises to engulf the carrier, which has mostly laid low amid the coronavirus pandemic.
It was reported in December that the carrier cut 250 cabin crew jobs, months after slashing hundreds more roles across the company. Those that remained have also had to take significant pay cuts.
In 2019, the carrier faced regulatory scrutiny after being plagued by a slew of financial troubles. It narrowly missed having its licence revoked by Hong Kong's Air Transport Licensing Authority, after being handed a financial lifeline at the eleventh hour, in the form of an urgently-drawn-up cash injection plan.
In early January 2020, the carrier was reported to be facing legal action from lessors over $40 million in unpaid rent.
Woes at HKA controlling shareholder HNA Group — placed under bankruptcy by its creditors earlier this year — have not helped its case either, and the coronavirus pandemic — with its subsequent collapse in travel demand — further exacerbated its problems.