Australia's Regional Express has alerted the country's competition watchdog on what it called an "opportunistic strategy of flooding the regional airline market with excess capacity" by rival Qantas.
Rex, which most recently gained regulatory approval to commence domestic jet operations, also called on the Australian government to halt subsidies to Qantas, which it argues will "entrench the market power of the dominant carrier".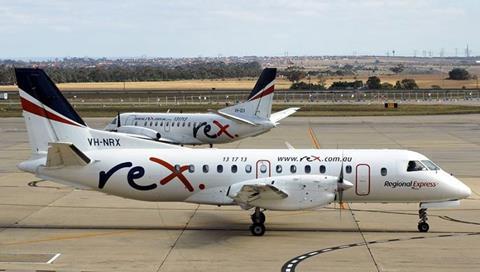 The criticism comes as Qantas announced a major expansion its regional network across three states. From February 2021, the Oneworld carrier will launch seven new regional routes, most of them from Melbourne.
The new flights, to be operated by Dash 8 300s, add more than 320,000 seats annually. It will also see Qantas, together with its regional unit QantasLink, operate more domestic destinations than its pre-pandemic network.
Qantas also announced that it was adding frequencies to existing domestic and regional flights from 2021, tapping into what it called "pent-up demand for travel". This comes as international borders remain closed off to curb the spread of the coronavirus.
In recent months, state borders across Australias have gradually reopened, leading to a surge in domestic travel demand.
Rex, in its latest statement, has slammed its rival's move as "clearly anti-competitive". It adds that it was "particularly unconscionable at a time when Qantas is receiving almost one billion dollars of federal assistance, while laying off thousands of workers under the pretext of reducing losses".
Noting that Qantas "is choosing to incur huge losses" on the regional routes, Rex adds: "It is clear that Qantas is very worried about Rex's entry into the domestic market as it is well aware of Rex's superior efficiencies and on-time performance. Qantas is trying to weaken Rex by attacking its profitable regional operations even at the cost of heavy losses for itself."
Rex cited the example of intra-state flights between Sydney and Orange, which Qantas launched in July, noting that the route was "barely big enough for one operator". Qantas, it contends, only carried an average of 10 passengers per flight since launching operations.
Says Rex: "Qantas is well known for quickly dropping a route once it no longer serves its strategic objectives. If Qantas succeeds in driving Rex away from these routes, there is every possibility they will never have a regional service again when they are no longer relevant to Qantas."
"History has shown that once regional airlines are squeezed out, the loss is permanent and regional and rural communities suffer the consequences," the regional carrier adds.
It has since alerted the Australian Competition and Consumer Commission on the matter and is urging the Australian government to allow the commission to "protect new entry and expansion" in the regional airline market.
Prior to the coronavirus outbreak, Rex operated 60 Saab 340 turboprops to 59 regional destinations. From March 2021, the carrier will launch domestic services with six Boeing 737-800s.