Romanian low-cost carrier Blue Air has pushed back its resumption of flights until 10 October, having initially cancelled flights until 11 September.
Blue Air suspended flights from Romanian airports on 6 September after the country's government blocked its bank accounts after beginning enforcement action over a 28.7 million lei ($5.9 million) debt owed as part of a state environment fund.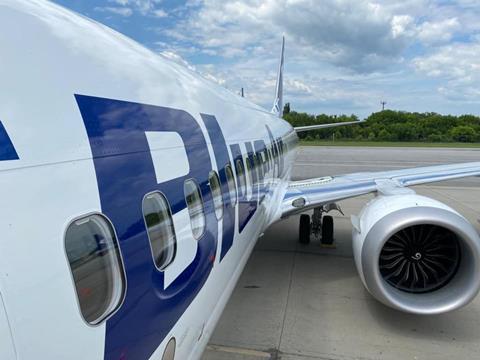 The carrier had initially hoped to resume flights on 12 September, but has now pushed a restart back a month saying it does not have the funds to pay the required operating costs to resume flights.
"In the last 48 hours, the executive management, the board of directors and the shareholders of Blue Air found that the level of ticket sales was significantly affected and the amounts that were collected by the payment processors have been blocked by those, so that the company does not have at this time all the necessary funds to pay for the fuel and other operational expenses," the airline says in a statement.
It now aims to resume flights on 10 October.
"The decision to resume flights decisively takes into account the possibility of the company to reimburse all affected passengers the amounts owed and to pay all commercial partners the costs of the services provided in favour of the company," it says.
Blue Air had been seeking to secure fresh investment prior to suspending flights.
"During this period [until 10 October], we are firmly convinced that the two investors, with whom the company's shareholders are in extremely advanced discussions at the time when this 'force majeure' situation occurred, will have the necessary time to analyze absolutely all the implications of this event and decide…. if they want to invest the sums necessary to position Blue Air to the results before the Covid-19 pandemic."
It point to losses over around €130 million ($121 million) incurred during this period through a combination of Covid travel ban and the impact of the war in Ukraine, high fuel costs and exchange rate effect from the weak euro rate against the US dollar.
The airline adds: "We seek to provide in the shortest possible time additional details about the way in which the activity of air passenger transport will be resumed."
Blue Air had been operating a reduced fleet of 13 Boeing narrowbodies – including 737 Max 8s – at the time of suspending flights. It previously indicated it expected to operate five aircraft over the winter after aircraft had been returned to lessors.
The short-haul carrier generated revenues of €415 million in 2019 before the pandemic.