Central African carrier RwandAir has taken delivery of its first dedicated freighter as it seeks to expand its cargo operations.
The Boeing 737-800SF will be based at the airline's Kigali hub and will operate to destinations in Africa and the Middle East, including Johannesburg, Nairobi and the UAE, RwandAir said on 24 November.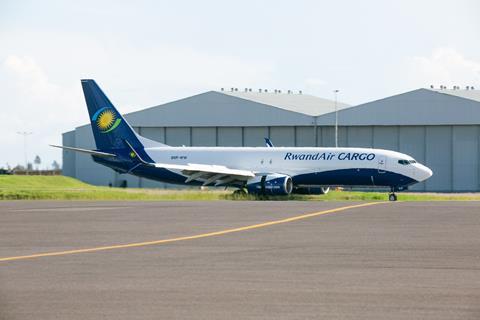 "The delivery of our dedicated cargo aircraft is a huge milestone in RwandAir's fleet expansion plans," says chief executive Yvonne Makolo.
"Cargo is of ever-increasing importance for the aviation industry, and as a landlocked country, we recognise the importance and value of good cargo connections."
The airframe – 9XR-WW – is a former TUI passenger jet that is being to leased to RwandAir through Merx Aviation, Cirium fleets data suggests. The lessor acquired the jet in February, data shows, with the conversion being completed earlier this month.
Makolo told FlightGlobal in 2020 that RwandAir was seeking to purchase a dedicated freighter "in the near future".