Ryanair continued to reach new traffic highs in July, as it served 16.8 million passengers – some two million more than it recorded for the same month of 2019 and 0.9 million up on the previous all-time record seen in June this year.
The Irish carrier and budget rival Wizz Air are the first European airlines to report traffic for July, with the latest data reflecting their emergence from the pandemic as larger operators.
Ryanair has been exceeding pre-Covid passenger numbers since March this year, while its load factors are inching towards pre-pandemic parity. Indeed, its 96% load factor in July was a single percentage point down on the equivalent month in 2019. It was also Ryanair's joint-highest load factor since August 2019, having last been matched in February 2020.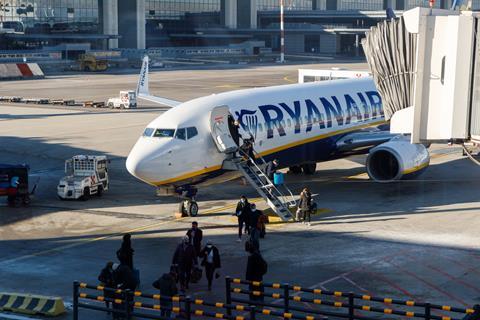 On a year-on-year basis, Ryanair's passenger numbers were up 81% from 9.3 million in July 2021, while its load factor was 16 percentage points higher than the 80% seen during that month.
Ryanair is targeting 165 million passengers for the year ending March 2023, which would surpass its pre-Covid high of 149 million.
Wizz Air, meanwhile, also recorded a new all-time high for traffic in July, of 4.8 million passengers.
That figure is up 23% from the 3.9 million passengers carried in July 2019 and marks a rise of 61% year on year.
Its load factors are lagging those of Ryanair, reaching 90% in July – up from 86% in June but down six percentage points from the 96% recorded in July 2019.
Wizz has been exceeding pre-Covid passenger numbers since April this year.