Singapore Airlines will fully phase out the older aircraft types in its fleet - such as the Boeing 777-200ER and Airbus A330-300 - within a year, but declines to say whether the retirement of the widebodies has been accelrated byt the coronavirus outbreak.
At a briefing following the release of its full-year results, SIA senior vice-president finance Stephen Barnes says the carrier is not expecting over the short- or medium-term "to recover the full [levels of service] as we had" before the pandemic. On that basis it "will not need the same sized fleet that we had", he adds.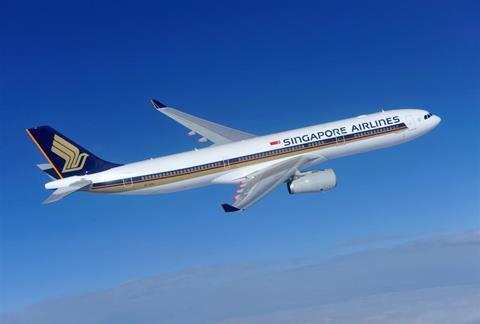 The older 777s in its inventory, such as the -200ERs, "will leave the fleet a little earlier, certainly by the end of this financial year", Barnes adds.
Cirium fleets data indicates the carrier has seven 777-200ERs and five -300s, which are between 16 and 19 years old. Of these, only three 777-300s are currently in operation.
SIA will also remove its fleet of nine leased A330-300s. "[They] are due to leave the fleet in the next 12 to 14 months and we will not be extending the leases," says Barnes.
The carrier gives no detailed timeline on the phasing out of the older aircraft, and does not confirm rumours that the 777-200ERs have been prematurely retired during the outbreak.
SIA is coy about whether the Star Alliance carrier would consider retiring any of its 19 A380s, as some other operators have done so
Chief executive Goh Choon Phong says: "The shape of recovery in this particular crisis is still uncertain. We have flexibility around our fleet, and we will look at what we need to do in terms of matching fleet requirements and market outlook."
SIA adds that it is still negotiating with Airbus and Boeing "to adjust the delivery stream for aircraft orders placed in the past", but gives no further details.
In recent weeks, carriers in North America and Europe have accelerated retirement of older aircraft, in light of collapsed travel demand brought about by the outbreak. For instance, Lufthansa has brought forward the retirement of six of its 14 A380s, along with "permanently decommissioning" its 747-400s and A340-600s.
For the year ended 31 March, SIA Group reported a net loss of S$212 million ($148 million) - the first in the airline's history.
Operating profit for the year was down 94.5%, to S$59 million, with full-year revenue declining 2.1%, to S$16 billion, and expenses rising 4.3%, to S$15.9 billion.