Singapore Airlines and its Indian joint venture Vistara have inked a commercial co-operation framework agreement, widening its existing areas of partnership.
The agreement, which builds on an existing codeshare partnership signed in 2017, will see both carriers co-operate in areas such as capacity planning, sales and marketing, as well as customer service and operations.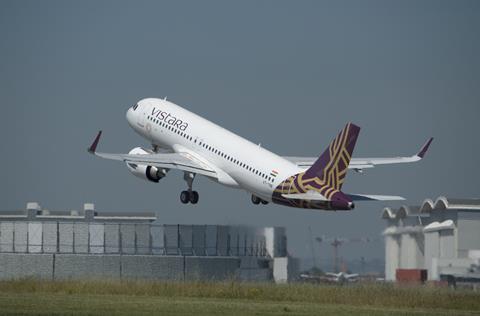 SIA says that the partnership will "allow both airlines to achieve further synergies on services between Singapore and India, as well as in key regions of Southeast Asia, Australia and New Zealand".
"This will be important, as the aviation industry recovers from the impact of the Covid-19 pandemic, and both international and domestic connectivity are restored in a gradual and calibrated manner in tandem with the demand for air travel," the Star Alliance carrier adds.
The agreement will be subject to Singaporean regulatory approval, says SIA, which owns 49% of Vistara. Indian conglomerate Tata Sons owns the remaining 51% shareholding in the New Delhi-based carrier.
The announcement of a deepened partnership comes amid a news report from Bloomberg detailing the "crossroads" the Tata Group has found itself with regard to its airline joint ventures.
Apart from Vistara, Tata also has majority shareholding in AirAsia India. The Bloomberg report notes Vistara has "never made money" since its launch in 2015, and faces a collapse in corporate travel demand amid the coronavirus pandemic.
The report also suggests a difference in management styles between executives appointed by both joint venture partners. Vistara and the Tata Group declined to comment on the Bloomberg report.