Singapore Airlines is to axe its sole Airbus A380 operation to North America, as part of a network rejig in 2023 that will see it ramp up Asia-Pacific flights amid "stronger demand".
In a network update, SIA adds that it expects to exceed pre-pandemic capacity to a number of markets within Asia by March 2024, with more Airbus A380s deployed to Australia and Hong Kong.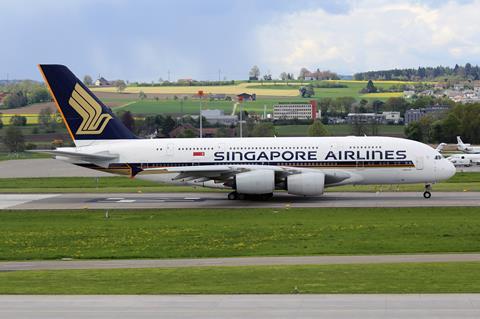 The A380 is currently deployed on daily flights from Singapore to New York's John F Kennedy airport via Frankfurt. SIA resumed A380 operations on the route in March, after a two-year hiatus amid the coronavirus pandemic.
However, the route will be down-gauged to a Boeing 777-300ER from mid-May 2023, putting an end to the A380's short-lived operations to North America.
The downward adjustment to long-haul capacity comes "[as] part of its review of travel demand and capacity needs", says SIA.
Other cities with frequencies cut include Los Angeles (from thrice daily to 17 times weekly), as well as Houston, currently flown via Manchester.
"SIA remains strongly committed to the North American market. Even with the above network adjustments, the airline will operate a higher seat capacity to the USA compared to its pre-pandemic levels," the carrier states.
MORE A380s IN ASIA-PACIFIC
The A380s will return to Melbourne from May 2023 after nearly a four-year hiatus, says SIA. It will operate one of four daily flights, replacing a Boeing 777-300ER currently deployed. SIA will also upgauge one daily flight to Sydney from an A350-900 to an A380 in the same month.
It is the airline's East Asia network that will see a significant ramp-up, due mainly to borders reopening in Taiwan, Hong Kong, South Korea and Japan.
The Star Alliance carrier will add two more daily flights to Hong Kong from end-March 2023, including one A380 flight. The increase sees SIA flying four times a day between the two cities.
It will resume flying to Busan in South Korea, operating four weekly flights with its 737 Max 8 aircraft. Seoul, meanwhile, will see a fourth daily service from 1 June 2023, operated by 787-10s.
SIA is also to double its frequencies to Taipei, from seven weekly flights currently, to twice-daily operations by end-May 2023. Similarly, flights to Osaka will be operated double daily from May 2023, up from 11 weekly flights presently.
SIA says it will also increase flights to Thailand, adding one daily flight each to Bangkok and Phuket.
In total, 10 cities in Asia-Pacific – including Bangkok, Seoul Incheon, Kuala Lumpur, as well as Osaka — will see capacity reach or exceed pre-pandemic levels by early 2024.
SIA senior vice president for marketing planning JoAnn Tan says: "Looking ahead to 2023, we see stronger demand for flights to destinations across South East Asia, parts of East Asia, and Australia. As we restore our network to these regions closer to pre- pandemic levels, our customers have even more flight options as they make their holiday plans."