Singapore Airlines and Thai Airways International have entered a memorandum of understanding (MOU) that will see more extensive codesharing between the two carriers.
The MOU will also see the two Star Alliance carriers explore "wide-ranging commercial collaboration" aimed at providing "more options and value" to passengers, say the pair in a joint statement.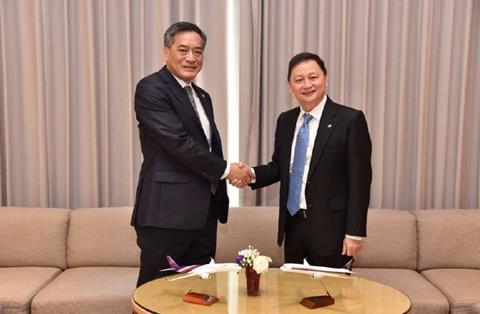 Initially, the two airlines will place their code on each other's services between Singapore and Bangkok. Thai will also place its code on SIA services to South Africa and North America in the first quarter of 2023, subject to regulatory approval.
Additional codeshare opportunities will also be considered, including for destinations in Europe, India, and the southwest Pacific.
"SIA and Thai have had a close relationship for many years, which we aim to strengthen through this comprehensive agreement," says SIA chief executive Goh Choon Phong.
"Both airlines have a loyal customer base, as well as extensive operations within Southeast Asia and around the world. This is a win-win opportunity to support the growth of our respective hubs and enhance the options and service offerings for our customers."
Suvadhana Sibunruang, Thai's acting chief executive, also stressed the long-term ties between the two carriers, and said the new MOU will help to broaden Thai's network.