Singapore Airlines Group narrowed its first-quarter losses on the back of an increase in revenue, though it warns that new coronavirus variants and fresh infection waves could dampen recovery momentum.
For the three months ended 30 June, the group was S$274 million ($202 million) in the red at an operating level. This compares with the S$1.04 billion operating loss it reported for the same period in 2020, at the onset of the pandemic.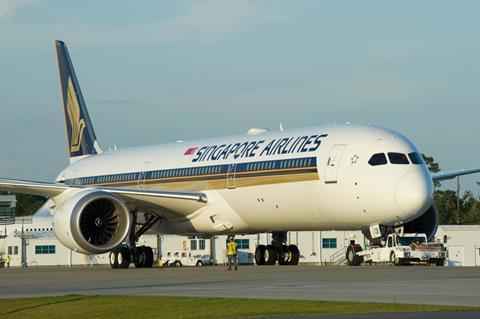 Revenue for the quarter rose about 52% year on year to S$1.3 billion, helped by a 32% increase in cargo revenue to S$214 million.
SIA Group also shaved nearly 17% in expenses for the quarter, for a total of S$1.57 billion. Higher fuel prices, coupled with a reinstatement of capacity, meant that net fuel costs doubled during the period.
Non-fuel expenditure rose 0.9% year on year due to increased flying activity, though it was partially offset by lower depreciation after surplus aircraft were removed from the fleet.
The group reported a net loss S$409 million during the quarter, narrowing the S$1.12 billion net loss in 2020. SIA says better operating performance, coupled with the absence of non-cash impairment costs, helped dramatically lower its losses.
During the quarter, SIA and its low-cost arm Scoot grew passenger capacity to around 28% of pre-pandemic levels, and expect to fly about a third of pre-Covid-19 capacity by end-September.
"By the end of September 2021, the SIA Group expects to serve around 50% of the points that were part of our passenger network before the onset of Covid-19," it adds.
Mainline carrier SIA's fleet saw a net increase of one aircraft during the quarter, as two Airbus A330s were due to be returned to lessors, while three A350s were delivered. It ended the period with 115 jets – nearly half of them A350s – and seven freighters.
As for Scoot, it ended the quarter with 49 aircraft, a net increase of two jets. The low-cost unit took delivery of its first three A321neos and removed one A320ceo from the fleet.
SIA Group was noticeably less grim in its outlook compared with a year ago, though it remains cautious of recovery prospects.
"The growing pace of mass vaccination exercises across many countries provides hope for further recovery in international air travel demand. However, the risk of new variants and fresh waves of Covid-19 infections in key markets remains a concern," the group states.
"The recovery trajectory will be dependent on government regulations, vaccination rates, and the risk profile of individual regulatory authorities. The SIA Group strongly supports all efforts to facilitate the safe resumption of international passenger travel," it adds.
It also warns that "seasonal fluctuations and tighter pandemic controls" in some parts of the world will create "short-term volatility" and impact its cargo business.
"The SIA Group will remain nimble and flexible during this time, and be alert to all possible revenue and growth opportunities that may arise. We will also remain steadfast in exercising cost discipline across the group," it says.