Singapore Airlines Group expects a "material" operating loss for the quarter ended 30 June, as it warned of a "slower than initially projected" recovery trajectory from the coronavirus outbreak.
In June, the group's carriers — comprising SIA, SilkAir and low-cost unit Scoot — carried just 17,700 passengers. While this was nearly twice the amount handled in May, it remains drastically down on the 3.2 million passengers carried in June 2019.
Traffic, as measured in RPKs, was 99% down on the same month in 2019, while group capacity was cut 95%.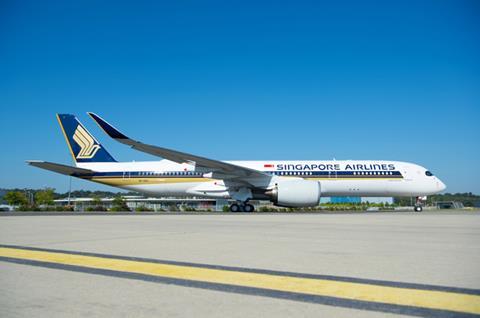 It notes that while some of the network across its three carriers has been gradually restored since May, the global lifting of border controls and travel restrictions is "slower than earlier expected".
The carrier says the slower recovery pace "will have a material impact on our revenue generation capability" for its financial year which began in April.
The group also flagged fuel hedge-related woes in its latest update. "In addition, the lower capacity projection reduces expected fuel consumption, causing more fuel hedges to be deemed ineffective under applicable financial reporting standards," it says.
The hedging impact will be recognised in the group's upcoming first-quarter financial statement to be released on 29 July.
The group adds that completion of its right issue in June has gone some way in strengthening its financial position. "Nevertheless, the group continues to actively pursue cost management measures and options to conserve cash, and retains the flexibility to raise further liquidity as necessary," it states.
All three carriers in the group served more points in June than the previous months as some markets began opening up.
SIA says it maintained a "skeletal network" of 24 points, up from May's 14. SilkAir, meanwhile, resumed flying to Kuala Lumpur and Medan, in additional to Chongqing, which it had operated in May. Low-cost unit Scoot added flights to Ipoh, Penang and Kuching in Malaysia, in addition to maintaining flights to Hong Kong and Perth.