Three South Korean low-cost airlines cut their red ink in their third-quarter earnings, as passenger traffic continues to recover with the country's easing of entry restrictions.
For the three months to 30 September, Jin Air, Jeju Air and T'way Air also reported a significant upswing in revenues – especially from international passenger travel.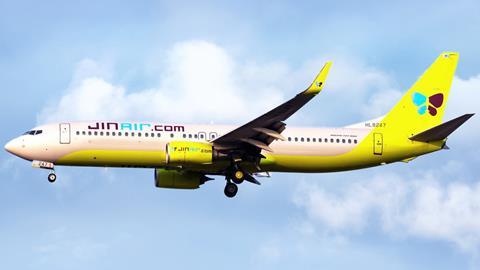 Jin Air reported a quarterly operating loss of W17.5 billion ($13.2 million), narrowing the W44.5 billion loss in the year-ago period.
The sister unit of Korean Air saw its revenue more than double year on year, to W175 billion, of which international passenger revenue made up about 34%, up from 6% in the year-ago period.
The airline saw a 29% rise in passenger numbers for the quarter to 1.8 million. Capacity more than doubled against 2021 levels. International traffic, in particular, saw the strongest growth, with RPKs seeing an increase of 37 times year on year.
The increase in operations led to a 83% jump in costs to W192 billion. Like many other carriers, Jin Air saw a significant portion of costs go to fuel, at 32%. It is a higher proportion than in 2021, when fuel accounted for just 17% of expenses.
As for Jeju Air, it was W60.6 billion in the red, an improvement on the W90.5 billion operating loss last year.
Revenue rose nearly three-fold year on year to W194 billion, led by a significant uplift in international travel revenue.
The airline carried about 2.2 million passengers during the quarter, a 38% increase year on year. Like its compatriots, the largest increase came from international travel, with RPKs climbing nearly fifty-fold.
Costs for the quarter rose 64% year on year to W226 billion, with fuel expenses doubling year on year.
Meanwhile, T'way Air reported a W32.6 billion operating loss, against a W39 billion loss in the year-ago period.
Revenue rose more than two-fold to W159 billion, with international travel - including its newly-launched routes to Southeast Asia points and Mongolia - now accounting for about half of all passenger revenue.