South Korean carrier Aero K has commenced scheduled domestic flights, becoming the country's eighth low-cost carrier.
The official launch of operations on 15 April comes more than three months since the carrier received its air operator's certificate for international and domestic air transport operations.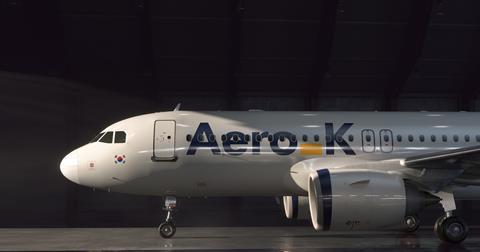 The carrier began operations with a sole Airbus A320ceo, a 14-year-old example registered HL8384. Its first flight was between Cheongju, a city south of Seoul which the carrier is based at, and the popular South Korean island of Jeju.
Aero K intends to operate up to three A320s at the start of operations, with aircraft leased from Carlyle Aviation Partners.
The start-up airline told Yonhap News Agency that it is "considering receiving" the remaining two jets in July, "depending on market conditions".
The Yonhap report also states the airline's plans to expand into international operations, flying to points in China, Taiwan and Vietnam.
Aero K joins an already crowded low-cost airline market in South Korea — other carriers include Jeju Air, T'way Air, as well as Jin Air, Air Busan and Air Seoul, which are affiliated to full-service carriers Korean Air and Asiana Airlines.
The carrier clinched its AOC in late December last year, after a previous failed attempt in 2017. Regulatory filings revealed that Aero K held W48 billion ($43 million) capital as of March 2019, when it applied for a business licence, which along with plans for a capital expansion were deemed sufficient for its operations.