South Korea's Air Premia expects to receive its second aircraft in July and is close to launching revenue service.
"We are at the final phase of getting the air operator's certificate," the start-up carrier said on 29 June via a LinkedIn post by its official account.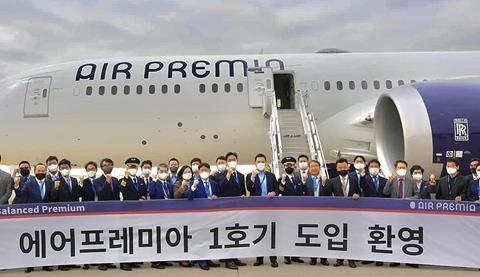 "Air Premia looks forward to its first revenue flights once the AOC gets issued from the government authorities."
Air Premia describes itself as South Korea's first hybrid carrier – combining "reasonable price and premium service" – that focuses on medium- and long-haul international routes.
Cirium has contacted Air Premia for comment.
The airline will have three Rolls-Royce Trent 1000-powered Boeing 787-9s in its fleet, delivered by Air Lease from the lessor's orderbook, according to Cirium fleets data.
MSN 66407 was delivered in April; MSNs 66409 and 66816 are scheduled for July and November delivery, respectively. Air Premia also has LOIs for another five 787-9s.
Air Premia obtained its business license in March 2019 and originally had two years to complete the process of securing an AOC.
As part of broad measures to support the local aviation industry, South Korea's Ministry of Land, Infrastructure and Transport has given Air Premia – as well as other start-up airlines in a similar situation – until the end of 2021 to launch operations, according to a 3 March statement by the ministry.
When Air Premia disclosed in April 2019 the three-aircraft deal with Air Lease, these were initially scheduled to deliver in July, September and November 2020. At that point, it planned to launch in September 2020 and said: "Air Premia plans to operate ten 787-9 aircraft in five years."