South Korea's Air Premia has received its air operator certificate.
The start-up can commence operations after completing various steps such as obtaining a route permit and reporting its fare structure, the Ministry of Land, Infrastructure and Transport (MOLIT) said in a Korean-language statement dated 16 July.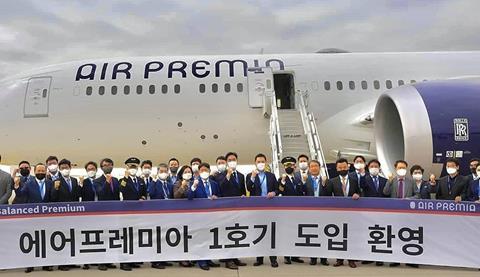 Air Premia was evaluated from 6 March 2020 to 15 July this year, approximately 16 months versus 14.9 months for Aero K and 6.3 months for Fly Gangwon, according to MOLIT, as the company delayed the introduction of aircraft from July 2020 to this April, according to the ministry.
As part of the evaluation process, the ministry checked whether Air Premia has "sufficient financial capacity" to maintain safe operations after starting up.
The company acquired its business license in March 2019 and at that time held W19.2 billion ($17 million) capital.
MOLIT states: "It was evaluated that it would be able to cover operating expenses such as labour cost, lease cost, and maintenance cost for a certain period of time."