Southwest Airlines has taken the Boeing 737 Max aircraft out of its schedule until 6 June, suspending its service for two further months than previously planned, following similar moves by other US carriers in the past few weeks.
"Southwest Airlines continues to monitor information from Boeing and the Federal Aviation Administration on the impending 737 Max software enhancements and training requirements," the Dallas-based airline says in a statement on its website on 16 January. "We remain confident that, once certified by the FAA, the enhancements will support the safe operation of the Max."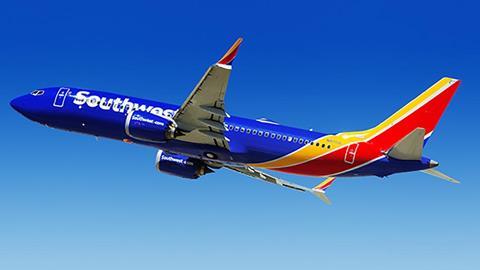 Competitor American Airlines said on Tuesday it plans to bring the Max back into its schedule on 4 June, while United Airlines announced in December that it would not schedule the aircraft until well into the second quarter of 2020.
The 737 Max's grounding is now in its eleventh month following two crashes which killed a total of 346 people. The FAA has not said when it will re-certificate the aircraft, adding only that it will do so once it deems the aircraft to be completely safe.
Boeing has halted production of the aircraft pending certification clarity, and has begun reassigning workers. As a result, suppliers and sub-contractors such as Spirit AeroSystems, which builds the fuselages, have already announced layoffs due to the suspension of production.