SpiceJet and Boeing have reached an agreement in relation to the grounding of the 737 Max that followed fatal crashes of the type in late 2018 and 2019.
"The company is pleased to announce that it has entered into a settlement agreement with Boeing wherein Boeing has agreed to provide certain accommodations and settle the outstanding claims related to the grounding of 737 Max aircraft and its return to service," says SpiceJet.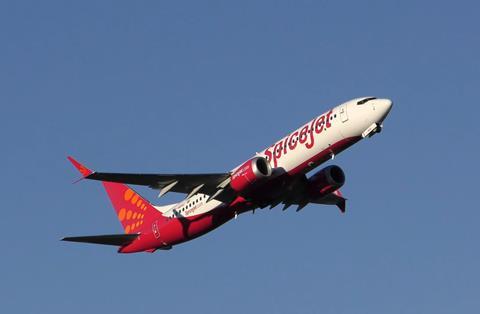 "This paves the way for the induction of efficient and younger MAX aircraft into the company's fleet and ensures the resumption of new aircraft deliveries from our order of 155 Max aircraft."
The airline, however, did not provide details of the financial agreement, nor when 737 Max operations will resume.
Boeing had this to say about the agreement: "We have held ongoing discussions with SpiceJet regarding the 737 MAX program. We are pleased to have reached a settlement that reaffirms SpiceJet's commitment to the 737 MAX aircraft. This agreement positions our companies and the 737 MAX to serve the fast-growing Indian market. We look forward to delivering on our commitments to SpiceJet and supporting their operation."
In its recently-released results for the second quarter of its 2021 financial year, SpiceJet said that its 737 Max remained grounded, pending discussion with Boeing about the cost of maintaining grounded jets and other losses.
Its results statement suggested that it estimates the cost of the grounding in the region of INR8.5 billion ($114 million) for the 18 months ended 30 September.
Cirium fleets data indicates that SpiceJet has 13 737 Max 8s in storage, and 155 order. Orders comprise 123 Max 8s, 20 Max 10s, and 12 where no variant is announced.
New Delhi cleared the type to return to service in August. In the Asia-Pacific, two key markets that have yet to clear the type for operations are China and Indonesia.