Indian low-cost carrier SpiceJet has announced plans to use drones to deliver medical and other essential supplies to remote communities in the country.
The carrier's logistics arm, SpiceXpress, will begin drone delivery services with 50 drones, which will be produced by Throttle Aerospace. It will roll out the services across 150 locations in India, focusing on delivering "vaccines, life-saving drugs and essential goods".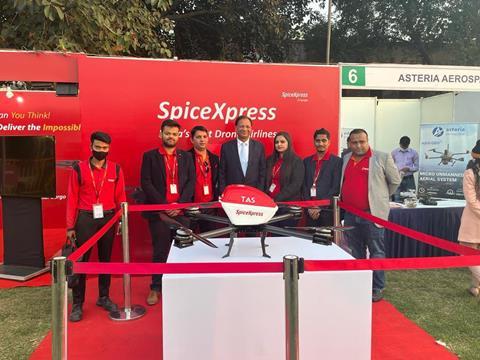 The airline, which performed demonstrations at Gwalior Drone Mela, gave no launch date, though managing director and chairman Ajay Singh says it expects to start "soon".
SpiceJet, which will build "dedicated drone ports at strategic locations" as part of its venture, adds: "The airline initially plans to target mid-mile drone deliveries while preparing for last mile deliveries in future."
Says Singh: "By inducting drones in the supply chain, SpiceJet's logistics arm, SpiceXpress, will take a massive technological leap which will change the game for fast and cost-effective logistics in India. This will not just redefine the entire supply chain business but also offer a unique experience to the end consumer."
In 2020, a consortium led by SpiceXpress began trials for Beyond Visual Line of Sight drone operations, following calls from the country's civil aviation authorities. To date, the group has completed 100 hours of testing.