Indian carrier SpiceJet saw its net loss for the first quarter of its 2022 financial year widen to INR7.29 billion, compared with INR 5.9 billion a year earlier.
Total revenue for the three months ended 30 June rose 79.6% to INR12.7 billion, as the carrier operated more capacity, but this was offset by India's second wave of Covid-19, which hurt demand, according to its results statement.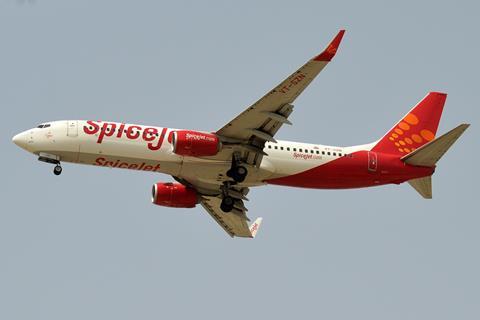 Operating results for SpiceJet's passenger business were weaker, with an EBITDA loss of INR2.9 billion, widening from INR810 million a year earlier. Passenger revenue, however, nearly doubled to INR6.2 billion.
The carrier also managed a domestic load factor of 69.5% for the quarter.
"The last five quarters have been the most difficult phase ever for SpiceJet as aviation remained the worst-hit sector during the second wave as well," says chairman and managing director Ajay Singh. "[The first quarter] was severely impacted by the second wave as passenger traffic almost disappeared."
On bright spot was cargo, which generated revenues of INR4.7 billion, more than double that of a year earlier. The carrier says that the SpiceXpress unit saw a net profit of INR300 million in the first quarter.
The airline plans divest SpiceXpress, to better allow it to raise capital independently.
"We are in the process of hiving off our logistics platform, SpiceXpress, which will unlock significant value for SpiceJet and its shareholders," says Singh. "This will also allow SpiceXpress to raise capital to fuel its rapid growth."
Despite depressed demand during the quarter owing to the resurgence of the coronavirus pandemic, the airline launched 74 new flights, and operated over 300 charters that transported 52,000 passengers.
Another challenge area is SpiceJet's 13 Boeing 737 Max aircraft, which remain grounded in India.
"Despite its inability to undertake revenue operations, the Holding Company continues to incur various costs with respect to these aircraft," says SpiceJet.
It is in discussions with Boeing related to costs and losses related to the aircraft.
"I am confident that SpiceJet will recover lost ground quickly as we are continuously ramping up our operations adding new stations and flights and are much better placed than this time last year" adds Singh.
"Our logistics arm continued with its strong growth story reporting yet another profitable quarter. We are making efforts to further strengthen the logistics business and are hopeful of driving a strong and profitable growth in the times to come."