SpiceJet has recommenced operations with its Boeing 737 Max 8s, with the type returning to India's skies for the first time since it was grounded in early 2019.
The carrier is the only 737 Max 8 operator in India, with 13 examples in its fleet, it says, plus has orders for 155 additional aircraft.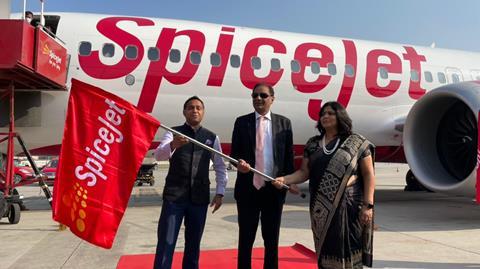 "The return of the Max comes at the perfect time for SpiceJet," says the airline's chairman and managing director Ajay Singh.
"With passenger traffic picking up and the government allowing airlines to operate at full capacity, our new planes will allow us to expand our network ahead of the busy travel season and play a major role in our future expansion. With significant cost-saving capabilities, we expect a significant reduction in our operating costs improving our bottom line."
The carrier's first service with the type was from Delhi to Gwailor.
SpiceJet's re-launch of the 737 Max follows the Indian regulator's decision in August to clear the type for service.
Additionally, the carrier has also reached an agreement with Boeing in regard to claims stemming from the long grounding of the Max that followed fatal crashes in 2018 and 2019.
At the recent Dubai air show, Indian start up carrier Akasa Air ordered for 72 Boeing 737 Max jets, which includes some of the higher-density Max-8-200 version. Akasa aims to commence operations in the summer of 2022.