SpiceJet has signed a memorandum of understanding (MoU) with US investment firm Avenue Capital for the financing of 50 aircraft, including via sale-and-leasebacks.
The agreement is for a "strategic alliance in respect of the financing, acquisition and sale and lease‐back of 50 new planes to be ordered by the airline", SpiceJet says in a 31 March press release.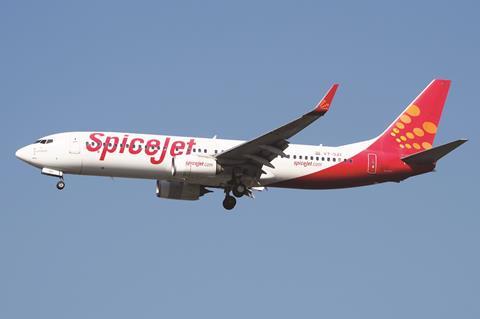 It adds: "The MoU sets out the next steps and conditions upon which Avenue, as part of the strategic alliance with SpiceJet, will assist with placing of SpiceJet's new aircraft portfolio including sale and lease‐back of and also assumption of ownership of potentially up to 50 of these aircraft."
The Indian low-cost carrier did not state which aircraft types Avenue Capital would finance.
SpiceJet has 142 Boeing 737 Max on order delivering between this month and January 2029, Cirium fleets data show. Of these, 110 are the 737 Max 8, 20 the 737 Max 10, while the rest are an unspecified variant.
The Gurugram-based carrier also has 13 737 Max 8s on order from lessors, including three from Avolon, six from CDB Aviation and four from ICBC Leasing.
Most of SpiceJet's in service and stored fleet is on lease. However, it does manage 13 De Havilland Canada Q400s itself.
Cirium has contacted SpiceJet for comment, including to clarify whether it plans to place a new order with an aircraft manufacturer.
Ajay Singh, chairman and managing director of SpiceJet, states: "We are delighted to enter into this strategic alliance with Avenue Capital Group and we look forward to closely working with them. This alliance will ensure a seamless induction of the planes in our fleet and help us plan better for the long term."
Avenue Capital has previous experience in aviation finance, having, for example, in 2016 held the equity portion of a $251 million asset-backed security deal called Merlin Aviation Holdings.
The New York City-headquartered firm also has experience in Indian aviation, having purchased three 2008-vintage Airbus A330-200s from Jet Airways in 2016. Cirium has contacted Avenue Capital for more information.