Indian low-cost operator SpiceJet is "engaging with investment bankers" to potentially raise up to $200 million in fresh funds, even as it widened its quarterly losses, punished by soaring fuel costs and a depreciating Indian Rupee.
For the three months to 30 June, the airline reported a net loss of INR7.9 billion ($99 million), compared with a net loss of INR7.29 billion a year ago.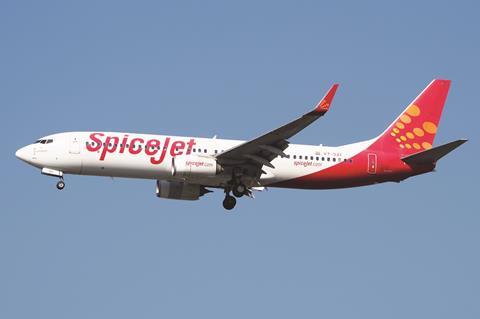 SpiceJet nearly doubled its revenue year on year to INR24.8 billion, helped by a three-fold rise in passenger revenues. It added about 11% more capacity during the period compared to the year ago, as India eased pandemic curbs.
However, much of the revenue increase was offset by a 64% spike in costs, with fuel expenses doubling year on year. The airline notes that its fuel expenditure also rose significantly quarter on quarter.
Airline chief Ajay Singh blamed fuel prices for the airline's poorer financial performance: "The industry has been witness to one of the most severe operating environment in the recent past which impacted the progress and recovery… Record high [fuel] prices and depreciating Rupee were the major contributors."
He adds that the airline will seek fresh capital in the near term, as it expands internationally.
"As we move ahead we are encouraged with the strong travel demand and our focus for the next year would be to induct more fuel efficient Boeing [737 Max 8] aircraft and concentrate on our regional and international routes. We are optimistic about our future and our continued recovery and in order to achieve our future plans the Board has mandated fresh capital issuance."
The carrier was recently pipped by full-service rival Vistara as the second-largest airline in the country by passengers carried. Traffic data for July from the country's aviation regulators showed SpiceJet, which has been the second largest domestic carrier for the past six months, slipping to fifth place with just 8% of market share.