SriLankan Airlines reduced its cash burn by approximately 44%, partly by renegotiating aircraft leases, according to chairman Ashok Pathirage.
The flag carrier secured both rent reductions and deferrals. Other measures include a voluntary retirement scheme for employees and restructuring for a leaner organisation.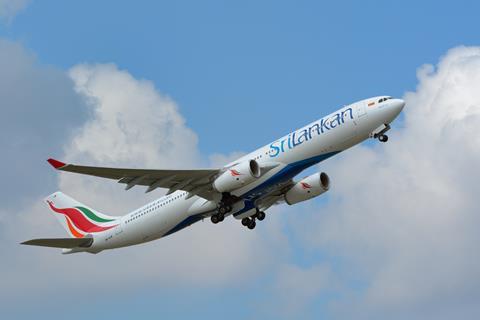 "However, the cash burn is forecasted to continue until at least the end of this year, as we expect continued severe revenue losses form the aviation industry," Pathirage says in a media statement dated 25 July.
SriLankan was loss-making before the Covid-19 pandemic, the company's annual reports shows, even though revenue has been on a general upward trend from at least financial year (FY) 2013 to FY 2020.
For the financial year ended 31 March 2020, group revenue was SLR184 billion ($922 million), according to that year's annual report, and Pathirage says in the latest statement that revenue declined by 70% year-on-year in FY 2021.
The chairman says that SriLankan has a "clear vision with an aggressive business plan" to return to profitability.
"However, due to the unexpected and unfortunate relapse of the pandemic outbreak, we had to postpone some of our plans until such time the current state of affairs returns to normalcy."
During the pandemic, the carrier pivoted to cargo operations with its existing fleet.
"The widebody fleet was used prominently for cargo operations while the majority of the narrowbody fleet was kept grounded due to lack of utilisation for passenger services," Pathirage states.
"The expansion of our cargo operations strategically reduced the adverse effects of passenger travel."
The airline has more than 29 destinations in its current network, across passenger and cargo operations.
Pathirage states: "Over 60% of the uplifted capacity was allocated to local exports to ensure a continuous foreign currency inflow to Sri Lanka in the hope of strengthening the domestic export segment."
He discloses plans to resume passenger service to Moscow in July, with weekly scheduled flights between Colombo's Bandaranaike International airport and Moscow's Domodedovo Airport.
"Using an Airbus A330 configured for 269 economy and 28 business class seats we will not only facilitate travel but will be the impetus for building closer bilateral business connections between the two countries."
Pathirage says that SriLankan's recovery is contingent upon the return of passenger travel and the airline is constantly reassessing its plans against pandemic developments.
"We expect that many countries will open their borders for air travel by the end of the year, enabling us to recommence our commercial passenger operations and begin our journey towards recovery," he states.
"All our periodic targets are contingent on international air travel being restored."