Asiana Airlines narrowed its first quarter operating loss to W11.2 billion ($9.9 million), compared with W2 trillion a year earlier.
The carrier's revenue for the three months ended 31 March was W7.8 trillion, down 31% from a year earlier, says the carrier.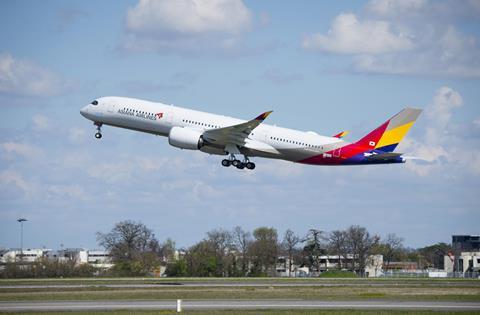 Net losses also narrowed to W230 billion from W549 billion a year earlier.
The carrier attributed the narrowing of losses to its efforts to reduce sales and costs.
A bright spot in the carrier's earnings was cargo, with cargo revenues nearly doubling to W611 billion, with demand coming from Southeast Asia, the Americas and Europe. Key cargos included electronic equipment, e-commerce goods, and personal protective equipment.
The robust cargo performance was aided by a pair of Airbus A350-900s that were re-tasked for cargo services in February, providing 46t of freight carriage per flight.
In addition, the airline worked to improve its operating deficit in passenger traffic through charters and sight-seeing flights, given that international services are all but impossible owing to the coronavirus pandemic.
"In the second quarter, efforts to improve passenger performance will continue by actively attracting special charters," says Asiana.
Destinations of first quarter charters included the Vietnamese city of Haiphong as well as the Chinese cities of Guangzhou and Nanjing.
The carrier will continue to provide charter services in the second quarter to return Korean citizens from overseas locations.
Asiana is in the process of being acquired by rival Korean Air.