Cathay Pacific and Singapore Airlines Group reported strong travel demand on their Mainland China network in February, amid a ramp-up in flights after Beijing eased most of its 'zero-Covid' restrictions.
In traffic results for February, both carriers also note that demand system-wide held strong, even after the peak Lunar New Year travel period.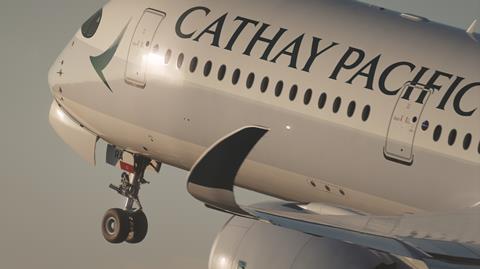 Cathay carried more than 1.1 million passengers during the month, a significant increase year on year, and an 11% rise against January's passenger volumes.
Overall capacity rose about 6% against January, and the airline expects to operate at 50% pre-pandemic capacity by end-March. Traffic, meanwhile, was up 5% month-on-month.
Cathay chief commercial and customer office Lavinia Lau says the airline had a "positive start" to the year. 
"Travel demand overall remained strong across our network, especially traffic to and from the Chinese Mainland via the Hong Kong hub. We also saw strong demand on our Taipei and Kaohsiung routes in the last week of February after the lifting of all travel restrictions on Hong Kong and Macau residents," she adds.
Mainland China RPKs rose seven-fold year on year, while capacity more than tripled in February.
As for the SIA Group, which comprises mainline operator SIA and low-cost unit Scoot, it carried over 2.4 million passengers in February, four times the number carried in the year-ago period, but down 8.8% against January.
Group passenger capacity stood at 71% pre-pandemic levels, and was down 10.7% compared to the previous month
SIA attributes the drop to February being a shorter month, as well as the cessation of supplementary flights after the year-end peak travel season.
Still, the airline group notes traffic and load factors held steady: "This includes East Asia, where the relaxation of travel restrictions in China has boosted the demand for air travel and supported a recovery in the market."
While SIA did not provide an outlook, Cathay says it will continue to ramp up capacity, including to Mainland China.
Lau says: "[We] are making good progress in increasing our capacity and rebuilding connectivity."
"[For] the Chinese Mainland, we aim to operate more than 110 return flights per week to 15 cities by the end of this month, including resuming services to Shanghai Hongqiao airport, which will be welcomed by business travellers, and Haikou," she adds.
China in early January eased most of its 'zero-Covid' travel restrictions and reopened its international borders. In recent weeks, airlines around the world have begun reinstating flights back to the country, with several operators quickly ramping up capacity.