Air New Zealand has increased its profit forecast for the 2023 financial year, citing strong demand for both domestic and international travel.
For the full year to 30 June, it expects pre-tax earnings in the NZ$510-530 million range ($313-434 million), compared with its prior guidance in the NZ$450-530 million range, says the carrier.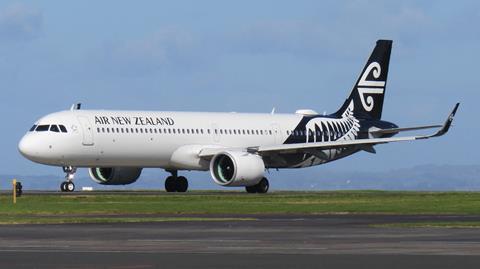 In addition to strong demand, Air NZ observes that USD denominated fuel prices have also declined below previous expectations.
"The improvements in revenue and jet fuel price are expected to be partially offset by softer cargo revenues due to increased competitive capacity, particularly in Asia, impacting yields and load factors," says Air NZ.
"The airline's network capacity expectations for the second half of the financial year remain largely unchanged from the February guidance, with approximately 95 percent of domestic and 80 percent of international pre-Covid capacity levels across the network."
Air NZ had given the previous guidance when it released its half-year results in February. If attained, the revised pre-tax profit figure will mark a sharp turnaround from the carrier's financial year to 30 June 2022, when its pre-tax loss widened to NZ$725 million.
Air NZ warns that inflationary pressures across the supply chain are still an issue and could have an impact on its full-year earnings.
The carrier also released its traffic figures for the month of the March, highlighting the strength of traffic recovery following the dissipation of the coronavirus pandemic.
In March, Air NZ carried 1.6 million passengers, more than double the 624,000 passengers it flew in March 2022.
March RPKs were up fourfold from a year earlier, while ASKs tripled. The carrier's load factor in March was 85.6%, up 24.9 percentage points from March 2022.
Traffic to Asia showed a tremendous improvement, with March's RPKs and ASKs up over tenfold from a year earlier.
Still, Air NZ's traffic and capacity numbers remain lower than in 2019, before the pandemic started in China and spread globally.