A bullish Singapore Airlines Group smashed its earnings record for the fiscal third-quarter on the back of "robust" demand recovery, posting an operating profit of S$755 million ($564 million), its highest ever quarterly profit.
The figure represents a 11% quarter-on-quarter increase, and is more nearly ten-fold higher than the year-ago period.
Revenue for the period rose 8% on the second quarter – and doubled year on year – to a record S$4.8 billion. That was driven by a 14% jump in passenger travel revenue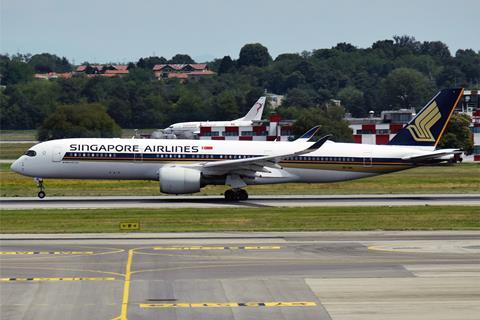 Traffic across mainline carrier SIA and low-cost unit Scoot rose 12% against the previous quarter, outpacing the 11% expansion in capacity. SIA Group operated at around 80% pre-pandemic capacity as at end-December 2022.
While fortunes improved on the passenger side, any further increase in overall revenue was offset by a 14% drop in cargo revenue versus the second quarter. That reflected a softening demand and a decline in yields in the air freight business.
Group costs rose about 7% quarter on quarter to S$4.1 billion, including a 16% jump in non-fuel costs from foreign exchange losses. Against the year-ago period, the group's quarterly costs nearly doubled.
SIA Group reported a net profit of S$628 million, a seven-fold increase year on the same period last year.
Operating profits at SIA fell 7% to S$636 million in the quarter, as it was affected by foreign exchange losses. Scoot reported a significant improvement in its earnings. The low-cost carrier, which has just announced plans to add Embraer E190-E2 regional jets to its fleet, posted a record operating profit of S$135 million. That was an eleven-fold rise on the previous quarter.
"The strong performance by both SIA and Scoot is a testament to the success of the group's portfolio strategy, which enables it to effectively capture growth in different traffic segments by deploying the right vehicles to the right markets," the group states.
SIA Group expects travel demand to remain strong through the January-March quarter, especially following China's border reopening. It notes that forward sales for East Asia flights "remain strong across all markets…as well as cabin classes".
In the current quarter, SIA Group expects to operate at 77% pre-pandemic levels, three percentage points lower than its third-quarter capacity.
However, the group's outlook for the cargo business is less than rosy, warning of demand headwinds. "This is due to macroeconomic concerns, and a slowdown in new orders as importers trim inventory levels. The increase in bellyhold cargo capacity will also increase the pressure on cargo yields," it states.
While the group flags challenges like inflation, slowing economic growth and elevated fuel prices, it remains confident of retaining its "leadership position" among global carriers.
"Competition is likely to intensify as airlines inject more capacity on international routes. The SIA Group's robust financial position, its commitment to offer customers best-in-class products and services, as well as its enhanced agility and resilience emerging from the Covid-19 pandemic, will allow it to retain its leadership position in the industry," it states.