Kuwaiti low-cost carrier Jazeera Airways lifted operating profits by 25% to KD16.1 million ($51.8 million) in the third quarter on a doubling of revenues.
The jump in third-quarter revenues to KD63 million was driven by a more than trebling of passengers to 1.1 million for the quarter.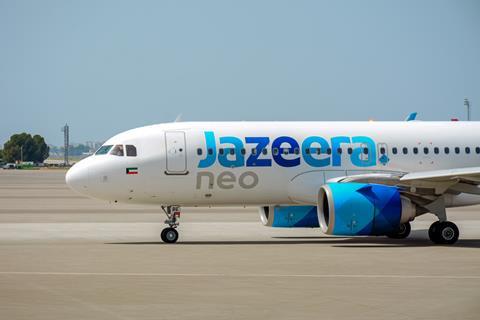 It took operating profit for the first nine months of the year to KD26 million and revenues to KD140.8 million.
Jazeera Airways chairman, Marwan Boodai, says: "Appetite for travel increased significantly during the peak summer season, exceeding the numbers of passengers that flew with us during the record year of 2019."
The airline carried 2.6 million passengers over the first nine months of the year, compared with just 700,000 for the first nine months of 2021 and 2.4 million for the full year in 2019.
"We have restored our business post-pandemic and made strong growth as reflected in our financial performance. This has been stimulated operationally with the launch of 11 new routes since the beginning of the year and bringing an additional two aircraft into the fleet," he says.