Amazon has hired Sun Country Airlines to deliver its packages in Amazon Air-branded aircraft, a huge expansion for the Minnesota-based ultra-low cost carrier and promising to represent up to 20% of the airline's business.
The six-year deal is a "first-of-its-kind for a scheduled service passenger airline", Sun Country says on 17 December, adding that it is scheduled to launch in the second quarter of 2020.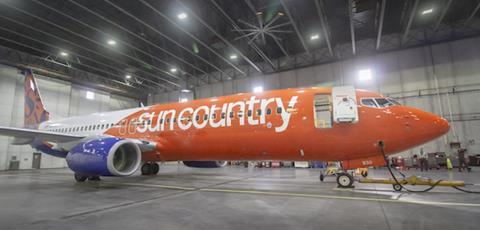 The agreement between the Seattle-based e-commerce company and the airline states that Amazon will sublease ten Boeing 737-800 cargo aircraft to Sun Country, which will then operate the planes on behalf of Amazon under its FAA air carrier certificate. This will take the airline's fleet to 39 737s, it says.
To staff the aircraft, Sun Country will hire up to 20% more pilots in 2020, as well as additional maintenance and operations staff.
"Our partnership with Amazon presents a unique opportunity to significantly grow our airline," says Sun Country Airlines chief executive Jude Bricker. "While the past two years have been focused on scheduled service growth, this exciting opportunity gives us a chance to diversify even further."
"We're thrilled to partner with Sun Country as they look to grow their cargo operations," Sarah Rhoads, vice president at Amazon Global Air adds. "As we continue to grow our air cargo fleet on behalf of our customers to ensure fast, free delivery, we look forward to the ongoing partnership with Sun Country."
Sun Country's Bricker, who has been in the chief executive role for more than two years, has transformed and expanded the discount carrier by overhauling its fare structure, adding ancillary fees, embarking on fleet expansion, and cost cutting.