Cathay Pacific and Lufthansa Cargo have added Swiss WorldCargo to their joint air cargo business arrangement.
The addition of Swiss WorldCargo builds on the joint business agreement Cathay and Lufthansa Cargo entered in 2016. The deal allows the pair to cooperate on pricing, sales, contracts and shipments between Hong Kong and Europe.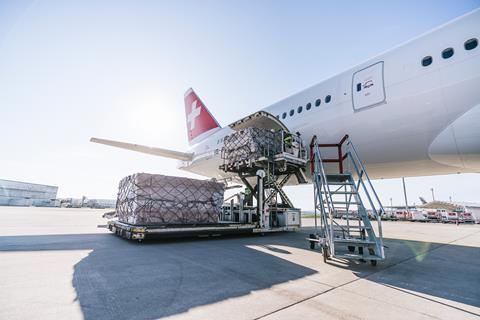 Following the arrival of Swiss WorldCargo, the three carriers will work together on network planning, sales, ground handling, and other areas.
Initially the focus will be cargo flights from Hong Kong to Zurich and Frankfurt, with the rest of Europe to follow later in the year.
"The addition of Swiss WorldCargo's flights to the already large combined network of Cathay Pacific and Lufthansa will further bring Hong Kong, the world's busiest air cargo hub, closer to Europe and strengthen one of the world's great trade lanes," says Cathay cargo director Tom Owen.
Swiss WorldCargo is a unit of Swiss International Airlines, itself a part of the Lufthansa Group. It primarily provides bellyhold capacity aboard Swiss International's commercial flights.