Restructuring ground handler Swissport International has appointed Warwick Brady, currently head of the recently rebranded Stobart Group, as its new chief executive, enabling Christoph Mueller to take up the chairman role with the Swiss firm.
Former Aer Lingus and Malaysia Airlines chief Mueller was installed as chairman of Swissport when investors completed a financial restructuring of the company in December, but has also been serving as interim chief executive since January. He will step down from the acting chief executive role when Brady joins in the spring.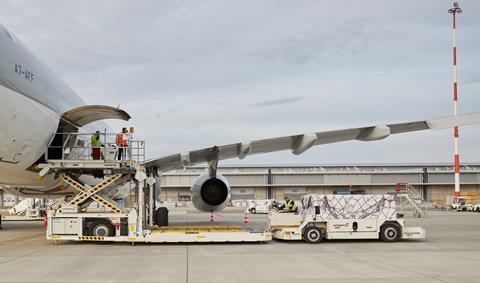 Brady is chief executive of Esken, the UK aviation and infrastructure specialist which recently rebranded from Stobart Group. He previously served for eight years as EasyJet chief operating officer.
"With his industry experience and a proven track record in organisational transformation, digitalisation and operational turnarounds, Warwick is the ideal chief executive to steer Swissport safely, and drive it with real ambition, as the world and the aviation sector emerge from the Covid-19 pandemic," says David Siegel, Swissport's interim chairman.
"We expect the market recovery to present us with some challenges but also with significant strategic opportunities. I am confident that Warwick as chief executive and Christoph as our future chairman will take Swissport to the next level and position the company as the first-choice partner for airlines globally."
A group of investment funds managed by affiliates of Strategic Value Partners, Apollo Global Management, TowerBrook Capital Partners, Ares Management, Cross Ocean Partners and King Street Capital Management took control of Swissport as part of a debt-for-equity swap in December. Swissport was formerly owned by China's struggling HNA Group.
Esken, which owns London Southend airport, says Brady will remain as chief executive until the end of June at the latest, to support a smooth transition. David Shearer will assume the role of executive chairman on an interim basis with immediate effect.
Esken, which rebranded from Stobart earlier this month, also owns regional carrier Stobart Air and aircraft lessor Propius but is seeking to divest these businesses.